iPad 2 featured on 'Will it Blend?', as fanboys look on in horror
20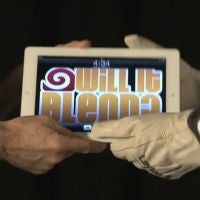 If you've every looked for mobile reviews on YouTube, or done some market research on blenders, then you've probably come across 'Will it blend?' The short, comedic clips are commercials meant to demonstrate the power of Blendtec blenders, by destroying buzz-worthy products. Their past features include the original iPad, the Chrome notebook, and more.
Now, Blendtec's spokesman Tom Dickson takes on the Apple iPad 2. And with iPad 2s in
short supply
, this segment might be one of the harder ones to watch. This one features a little more story than the others, as it centers around Steve Jobs' unveiling of the
iPad 2
, before Jobs challenges Dickson to destroy his precious new device.
And in case you aren't getting the theme of Blendtec's ads, we'll go ahead and spoil the ending: it blends. We have to imagine that Apple's fans will be somewhat annoyed, while Apple's many haters will cheer Mr. Dickson on.
source:
Blendtec (YouTube)
via
Electricpig