Which Android model held up better in a drop test, the Samsung Galaxy S7 or the HTC 10? (VIDEO)
69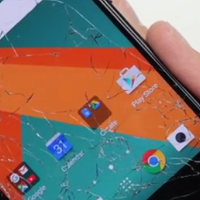 Considering the metallic build of the
HTC 10
and the heavy use of glass on the
Samsung Galaxy S7
, it would seem to be a snap to determine which of the two would be in a better position to survive a drop test. Using what
Phone Buffs
describes as a professional drop test machine, both Android models were dropped from a meter (3.3 feet) high on their back, side, bottom and front. Any handset that survived that beating would be subject to further testing until it could no longer make a phone call.
As we expected, despite the harder landing on the back drop for the
HTC 10
, the metal-clad model held up much better than the
Galaxy S7
in terms of damage. The bottom drop saw both phones respond similarly to the fall; this time it was the HTC 10 that was slightly worse off after the fall. Both phones took on some damage on the right side of the bottom. The pair once again suffered evenly on the side drop. Both the HTC 10 and Galaxy S7 had scuffing all the way down the side that took the impact.
Next came potentially the scariest test of all, the front drop. When it was completed, it turned out that neither front screen survived as both models ended up with a cracked display. The HTC 10 actually did better than its rival since the handset was still usable despite the damaged display. The Galaxy S7 screen, however, was no longer working after that one hit.
Since it could still make phone calls, the HTC 10 went to the bonus round where it would continue getting dropped until the screen was no longer functional. It took an amazing 32 additional front facing falls for that to happen.
source:
PhoneBuff