When is my phone getting the Android Lollipop update? Here's what we know about the release
97

The lucky owners of a Google Nexus or a Play Edition device, might be seeing the newest Android Lollipop ship with their gear, or it very soon after the unveiling, but, as usual, those with popular handsets like the
Galaxy S4
/
S5
/
Note 4
, the
LG G2
/
G3
,
Xperia Z1
/
Z2
/
Z3
, or the
HTC One M8
/
M7
, will have to wait a fair amount more.
We will wait for info and official manufacturer confirmations on their individual Android Lollipop update schedules, and will post any news as soon as we have them.
HTC already announced
that it will update the
One
and
One (M8)
within 90 days of receiving the source code from Google, which sounds moderately ambitious for a January timeframe.
Motorola also chimed in
, slating the fall for its update schedule, which jibes with the Q4 rollout of the newest software.
With Android Lollipop, we are getting a
thoroughly revamped interface
with the fashionable "flat", but colorful demeanor that many Android manufacturers, like Samsung and LG, adopted for their respective TouchWiz and Optimus overlays. In addition, Google finally overhauled its aging notifications system, which looked pale and barren in stock Android, when compared to Samsung, LG, HTC, or third party efforts you can find in the Play Store. The multitasking options also got a boost with a Google Now-style system, and a
64-bit compiler
, as well as a battery-saving
Project Volta
are all a go, so
there's plenty to look forward to
on your phone or tablet, hopefully sooner rather than later.
The whole Motorola stable you see below will be upgraded to Lollipop with various speeds, depending on carrier and other arrangements, but the
Moto G
and
E
, with their stock experience, should be first in line, and then the carrier models will follow suit.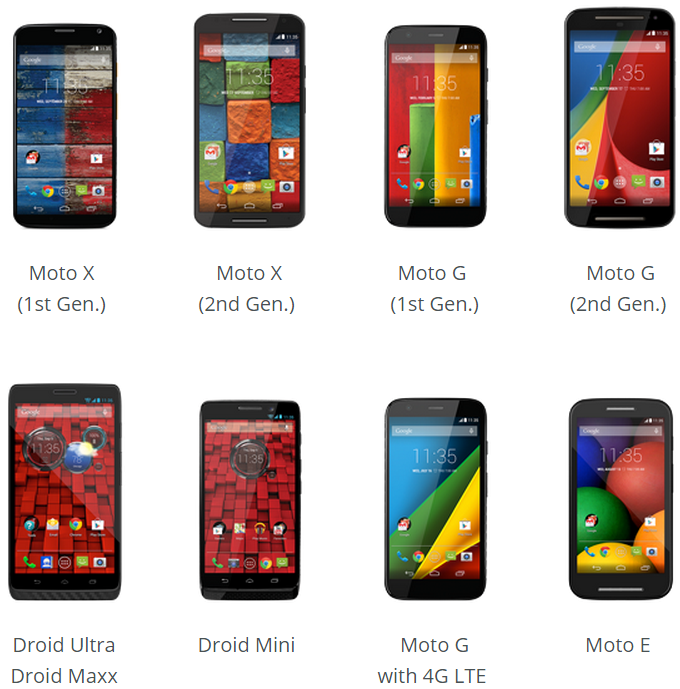 HTC
HTC One - within 90 days of receiving the Android Lollipop source code (January the latest)
HTC One M8 - within 90 days of receiving the Android Lollipop source code
HTC One mini/2 - promised for update, no hard schedule
HTC One GPE - in a few weeks
HTC One M8 GPE - in a few weeks
All the Xperia Z devices listed below will be getting Lollipop,
announced Sony
, with the
Z2
/
Z3
getting it first in early 2015: