Android goes entirely 64-bit with the L release, gets a huge performance boost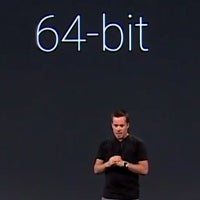 It's not only the visual changes brought on by the Material Design paradigm that the new "L" Android release will bring to the table, there are revolutionary changes under the Android hood, too. For starters, we are moving from the current aging Dalvik compiler to the efficient ART, which will make Android L truly cross-platform on ARM, x86 and MIPS, i.e. everywhere.
The ART compiler will significantly optimize memory work and app loading times, too, so Google is promising up to two times faster performance at times. In addition, ART is entirely 64-bit, so it can take advantage of new apps written from the groundup for 64-bit processing architecture, like the new ARM
Cortex-A57
processors.
It will also allow much larger RAM memory quantities to be addressed, so seeing Android devices with more than 3 GB of RAM is not out of the question. All of these improvements are coming for free, of course, as soon as the new Android L hits your handset. Watch all the performance improvements explained in the keynote below from the 1:02 mark onwards.