What the Galaxy S8/S8+ and the LG G6 may look like next to an almost bezel-less iPhone 8
66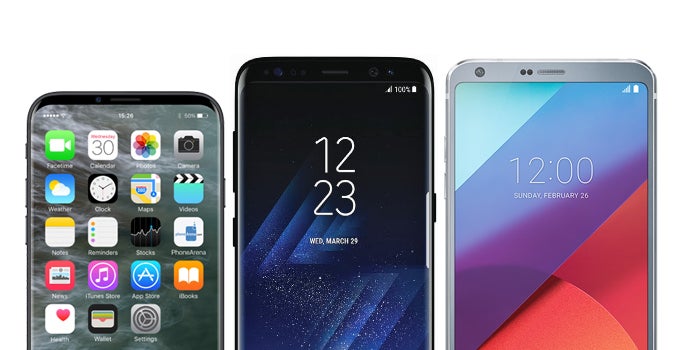 2017 is shaping up as the year of small bezels and big displays. Although phone makers have been trying to increase screen size without adding unnecessary bulk to their products for some time, it is only now that something of a more meaningful paradigm shift is emerging on the horizon. Yes, we've already seen a couple of "bezel-less" phones, but they didn't have the mass-market appeal of your iPhones, and Galaxies, and Pixels, and they weren't really meant to have it. Back in 2014, the Sharp Aquos was a bold and flawed device that showcased what smartphones could look like in a few years, and while the more recent Xiaomi Mi Mix was undoubtedly an overall better phone, it was still nothing more than a conceptual would-be.
Galaxy S8
and S8+, and even the Note 8 further down the line, and is stuffing bigger displays in devices that are otherwise not substantially larger than their predecessors. Apple too, according to many rumors, will be doing this for the major redesign of the iPhone (tentatively called
iPhone 8
from here on out).
We recently imagined
what the iPhone 8 may look like
, basing our design concepts on currently available information, and although there is no guarantee this early on that the final product will end up looking exactly like that, we did our best to take into account the most plausible rumors regarding the phone's dimensions and screen size.
Now, and seeing as how a new screen aspect ratio is emerging as a possible replacement to the current industry standard of 9:16, we thought it would be interesting to see what the Samsung Galaxy S8 and S8+ may look like next to an almost bezel-less iPhone 8. We'll also be tossing the LG G6 into the mix, just to spice things up.
So, let's have a look:
According to KGI Securities analyst Ming-Chi Kuo, who has traditionally been a reliable source of preliminary information for new Apple products, the drastically redesigned iPhone 8 will feature an OLED display with a physical area of 5.8 inches, the bottom part of which will be occupied by what Kuo is referring to as a "function area", leaving about 5.1-5.15 inches of actual display area.
If you want to learn more about this so-called "function area", and how future iOS apps may be designed with it in mind, check out our
iPhone 8 design concept
story for more details.
According to various rumors, albeit redesigned to feature an almost edge-to-edge display, the iPhone 8 will retain much the same dimensions as its predecessors. Whether that entails a fraction of an inch deviation from the current height and width of the
iPhone 7
and
7 Plus
is unclear at this point, but if the LG G6 (which is almost the same exact size of the G5) and the Galaxy S8/S8+ are anything to go by, then it would be a relatively safe bet that the iPhone 8 models will too be quite similar to current iPhones in terms of size.
The comparison image above shows an iPhone 8 that does not feature a curved screen. As such, they are noticeably wider than both Galaxy S8 phones, but this is not to say that this would be a disadvantage. Furthermore, some rumors claim that Apple may actually implement a curved screen in the redesigned iPhone 8, so it wouldn't be too out of the question to see an iPhone like that.
Next, let's have a look at how LG's latest flagship, the G6, looks next to the Galaxy S8 and our iPhone 8 design concept:
A snazzy-looking bunch, these three.
Opinions on whether this whole 9:18/1:2 (or taller in the case of the S8) aspect ratio thing will catch on are polarized, especially since, say, a 5.8-inch 9:18 display is not as big as a 9:16 display with the same diagonal, but the truth is that this way you're getting a phone that's not much bigger, but its screen size has increased. Whether you like it or not, it's very possible that, after the Galaxy S8, S8+, and LG G6, more major phone makers will bite the bullet and start developing their phones this way.
What do you think about this potential emerging trend? As always, you can tell us in the comment section below.
If you'd like to learn more about G6's unique "FullVision" display and what the differences in size are between a standard 9:16 display and a 9:18 one with the same diagonal (and more), check out these stories: