This is what the bezel-less iPhone 8 may look like: ultimate design concepts of the black and white models
87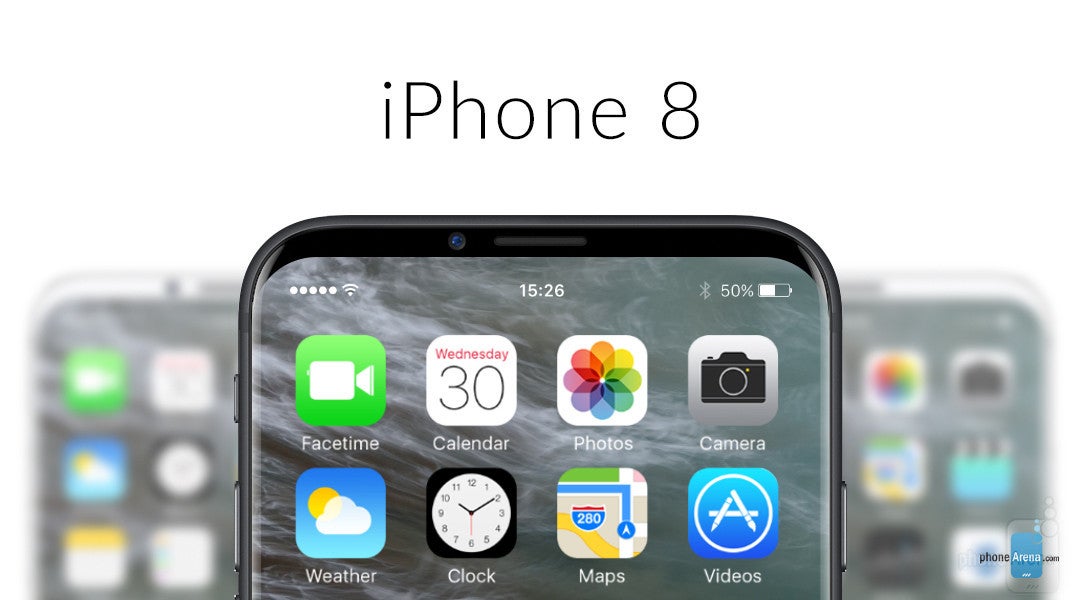 On January 9th 2007, late Apple CEO Steve Jobs took the stage during the Macworld Conference & Expo to reveal a device that would subsequently change the mobile industry and the daily lives of millions of people around the world forever. The iPhone – an usher of a new era of mobile computing, a pioneering device, the merits of which as such have already been discussed at length. And countless times, at that.
2017 marks the 10th anniversary of the release of the original iPhone, and the mobile world is abuzz with rumors and excitement regarding a possible radical redesign of Apple's iconic mobile phone. Although nothing is known for certain at this point, given the company's infamous secretiveness, many people believe that Apple won't just release a 7s and a 7s Plus this year, but rather has something very special planned for the 10th anniversary of its revolutionary phone. Of course, updated versions of last year's iPhone 7 models are not out of the cards, and, worst case scenario, they might be the only Apple phones we see in 2017, but let's not focus on such predictions right now.
Instead, let's talk about the exciting prospects of an iPhone 8. Because, even if Apple doesn't skip to the next full number with something completely different this year, then next, a radical iPhone redesign is coming, and it's something worth getting excited about.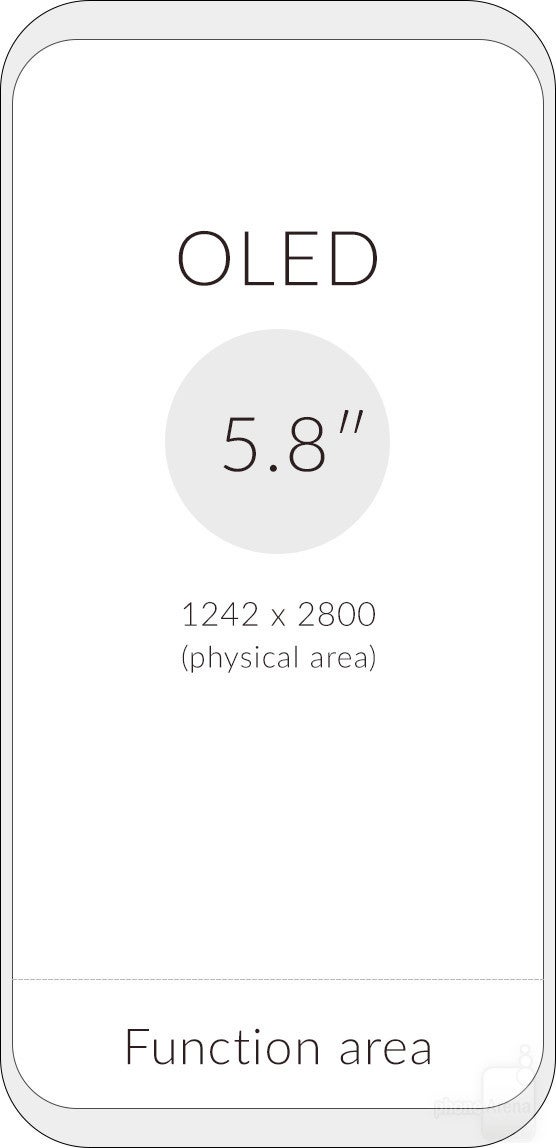 Analyst Ming-Chi Kuo of KGI Securities claims the iPhone 8 will have a 5.8-inch display, part of which will be dedicated to a "function area" that will take the place of the physical home button
There is no way around it, the industry is moving toward bigger displays, smaller bezels, and Apple has some catching to do when it comes to efficiently utilizing the frontal area of the iPhone. LG has already bit the bullet with the G6, ditching the current-standard screen aspect ratio of 9:16, in favor of a 9:18 (or 1:2) "FullVision" display that beautifully fills out the front of the G6, leaving very little in the way of bezels at the top and bottom. Samsung is doing something similar with the upcoming Galaxy S8 and S8+, although the screens on those will be even taller, with an aspect ratio of 9:18.5, while the phones themselves will not be substantially larger than their predecessors.
When it comes to Apple and its ideologies, it's a relatively safe bet that whatever redesigns are coming, they won't be significantly bulkier or bigger than current iPhone models. The displays, however, are a different story altogether – they are only getting bigger. In order to deal with this, many rumors suggest, Apple may drop the iconic circular home button that's been on the iPhone since the very beginning, and replace it with an on-screen substitute.
There are so many intriguing "if's" and "may's" surrounding the iPhone 8, that we decided to explore some of them here, through a series of beautiful conceptual images, based on information by traditionally reliable sources. The concepts we are going to take a look at try to illustrate how different facets of iOS would work on an iPhone, the physical home button of which has been replaced by a "function area", without going into crazy territory with impossible ideas. So, what is this function area-thing you may ask? Well, that's exactly what we'll try to explain here.
The iPhone 8: an almost bezel-less device with large OLED display and no physical home button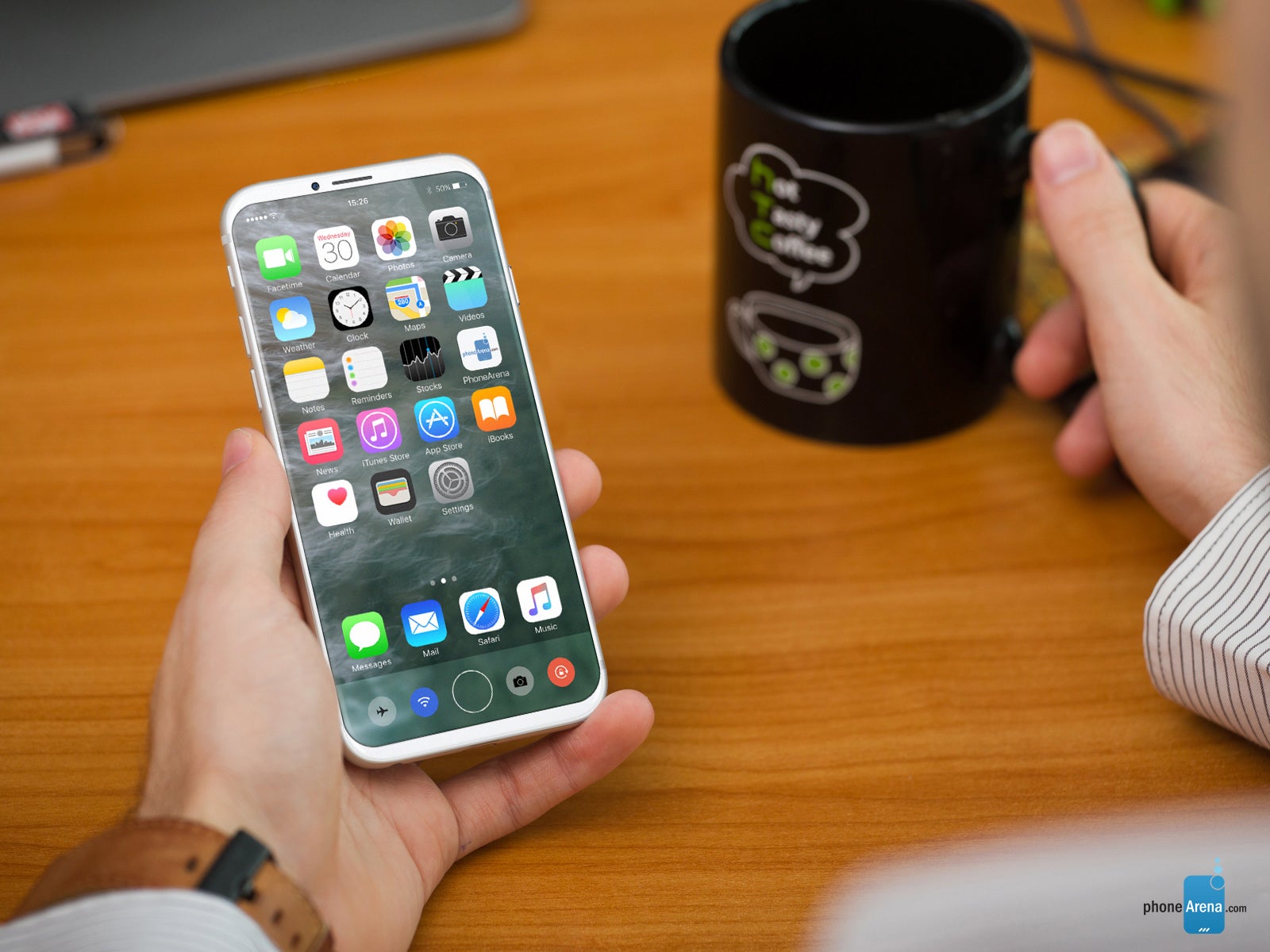 Like we already said, this particular concept explores an iPhone 8 without a physical home button. But although the circular depression has disappeared off the face of the phone, a round, on-screen button with the same size offers familiarity to long-time iPhone users. Coupled with Apple's advanced 3D and Force Touch technologies, it is capable of differentiating between various levels of pressure and providing users with physical feedback. Further, while on the Home screen, the "function area" around the button is used to display four customizable switches, otherwise found in the iOS Action Center, allowing users a quick and convenient access to different functions of the phone.
Acting in a similar way to the Touch Bar found on the latest MacBook Pro, the "function area" changes depending on the app you're using. Different interfaces can be displayed in this area, primarily swipe-based, that supplement the UI of the app that is currently running. For example, while editing a photo, a scroll bar for different effects appears in the "function area", hiding the home button while being used. In another scenario, the space below the on-screen keyboard is occupied by a scrollable wheel of emoji, granting users quick access to their frequently used emojis first, as well as all others, by swiping up and down.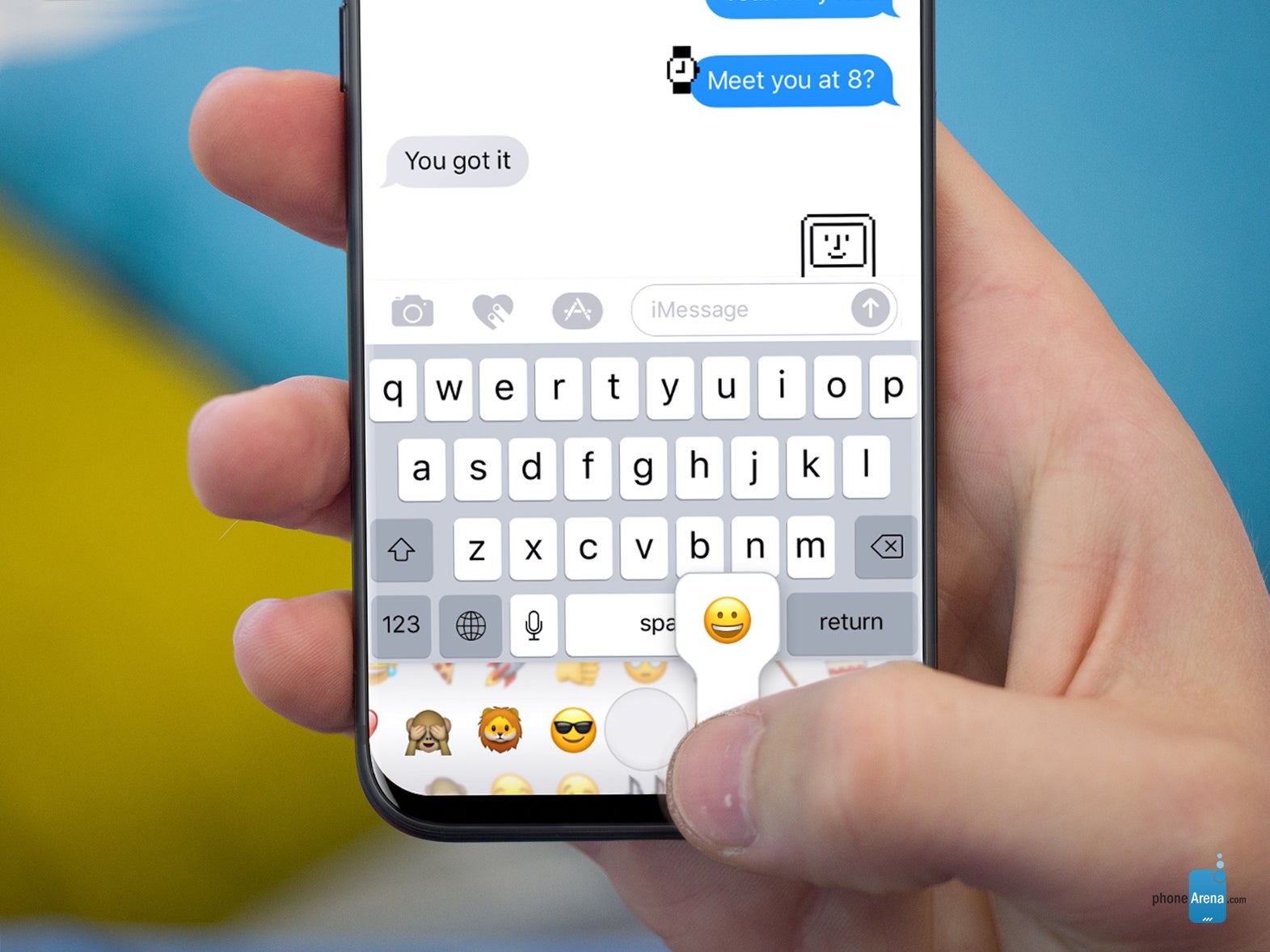 All emojis right under your keyboard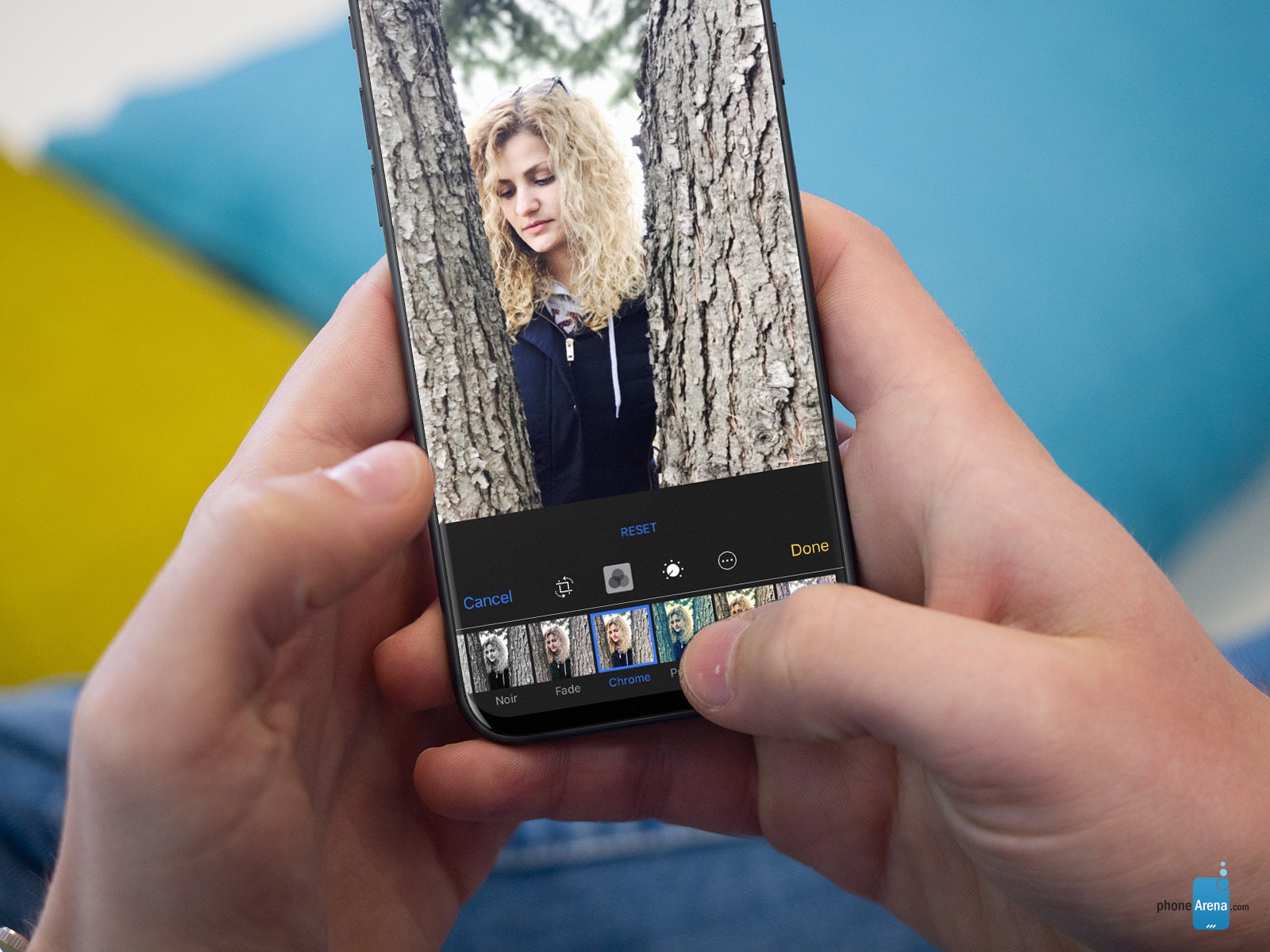 More room for your photos, dedicated area for editing controls
Once developers get the hang of it, this alleged "function area" can be used for all sorts of neat stuff, such as outsourcing various controls to it in media playback and editing apps, using it as a dedicated compartment for tabs in Safari, and a lot more. The possibilities are endless, really, and one needs to look no further than the Touch Bar on the new MacBook Pro to see how, with some guidance from Apple, developers can take advantage of one such feature and turn it into something special.
Imagine a device the size of an iPhone 7 but with a 5.8-inch display
Further, the purported new OLED display that might grace the front of the iPhone 8 won't be a standard 9:16 display. Instead, various sources claim, it will be a much taller one, akin to the likes found in the LG G6 and the upcoming Samsung Galaxy S8 models, and will use up the front portion of the iPhone 8 in a very efficient manner, without increasing the size of the device itself. Imagine an iPhone 8 with much the same footprint as the 4.7-inch iPhone 7, but with a 5.8-inch display, or an 8 Plus that is the size of the 7 Plus, but packing a 6.2-inch display.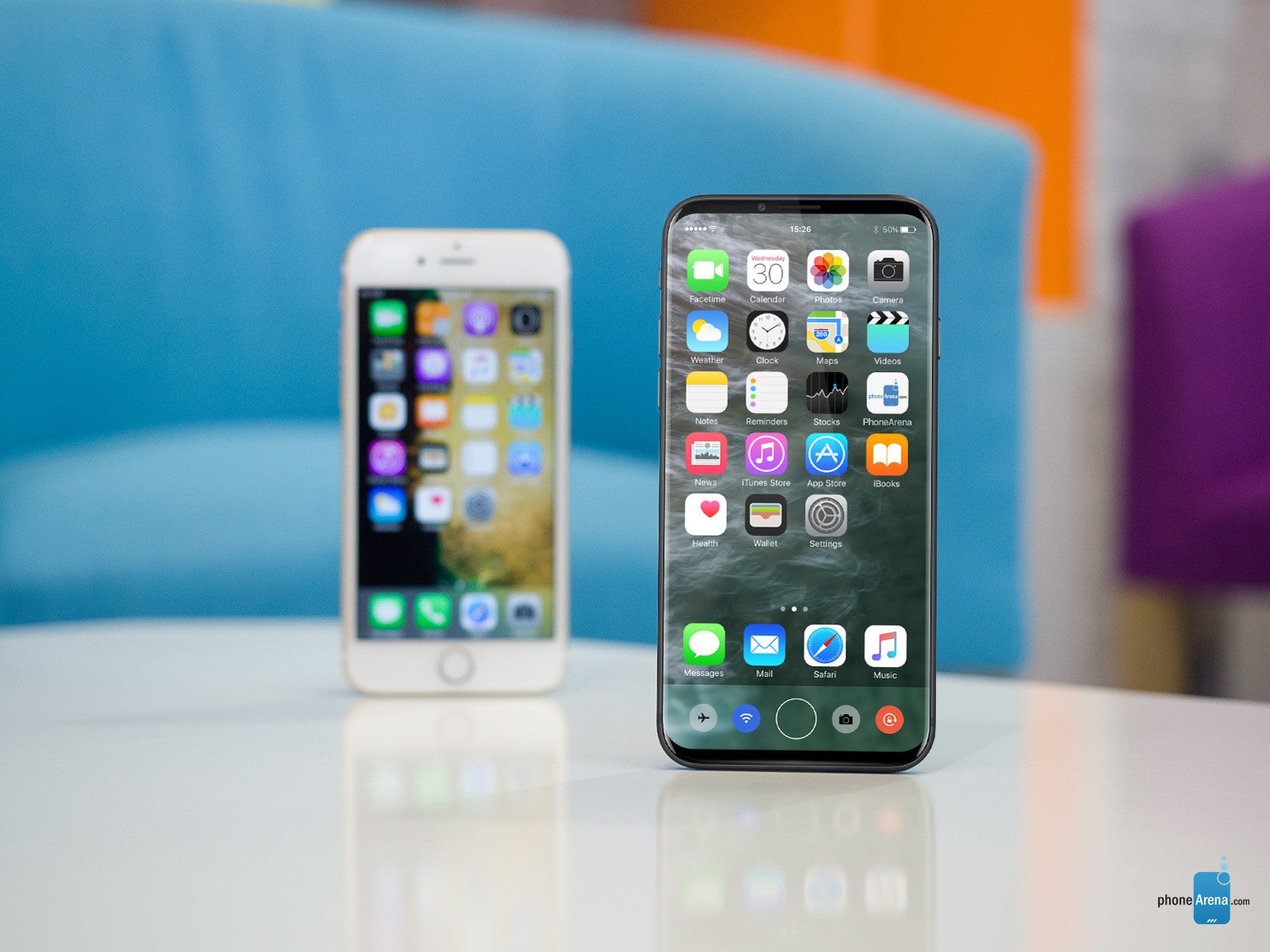 Concept iPhone 8 and an iPhone 7 -- same size, larger display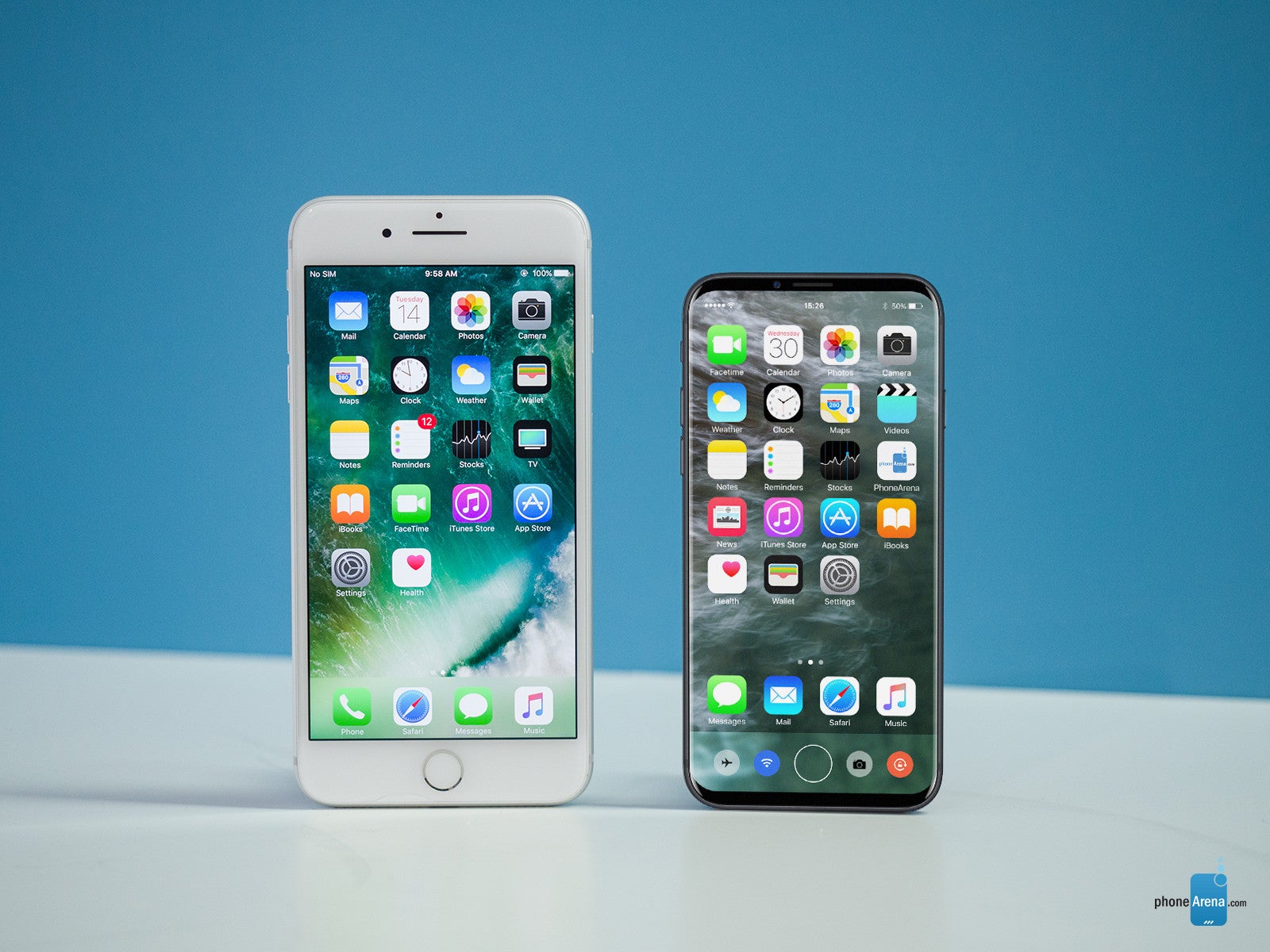 Concept iPhone 8 next to an iPhone 7 Plus
Of course, since a portion of the screen will be occupied by the "function area", the actual display area will be closer to 5.1 inches in the case of the non-Plus model. Still, when viewing media in landscape mode, the "function area" could go *poof* so that your videos and photos can take up the entire screen. On the other hand, when watching videos in portrait mode (for whatever reason), a video scrubber could occupy the space below the display, allowing users to quickly and effortlessly skip back and forth through videos.
And while different apps may benefit to a different extent from the increased screen real estate and the "function area", just check out the cool mockup of Apple Music made for an all-screen iPhone below. In this scenario, the area is occupied by an on-screen home button, as well as by familiar Apple Music controls, which can be scrolled through by swiping left and right.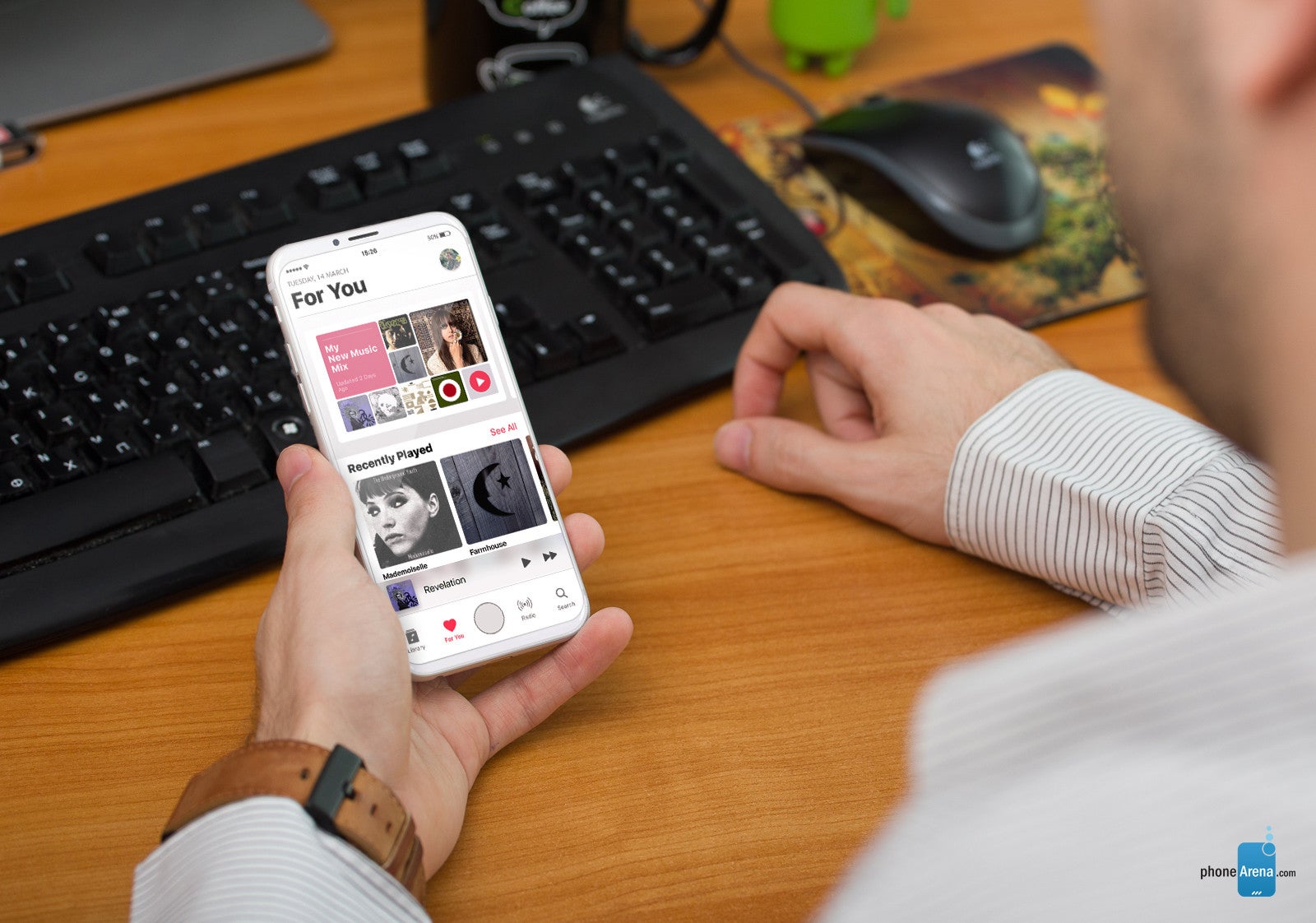 As we already said, a more radical iPhone redesign is coming sooner or later. Whether it will be this year or next, remains to be seen. Apple is said to be considering between 10 prototypes of the iPhone 8, all of which quite different from current models, so making a very accurate suggestion as to what the final product may look like is as good as impossible at this point. Still, going from what little reliable information we have, and taking into consideration recent developments in the smartphone industry, it wouldn't be too far fetched to make some educated assumptions about the iPhone 8.
For all we know, the iPhone 8 could be a shape-shifting apple that runs on liquified magic and casts FaceTime video straight to your brain, but we still tried to ground our concepts in research and currently available information. Whether the supposed iPhone redesign will look anything like this, or close to anything available online right now, is a question that only a handful of people can answer, but none of them will. We will have to wait the wait and see for ourselves, but in the meantime, why not check out some of these cool concept images? They may give you some food for thought as to how the interface of an all-screen iPhone could work. Besides, what's the worst thing that could happen? Get even more excited about the iPhone 8?