What makes 3D mapping possible in the Project Tango smartphone? Four cameras, the specs and purpose of which we now know
7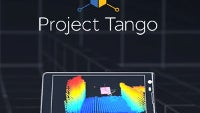 Google's super-ambitious, but still little-known
Project Tango
has remained on the sidelines of media coverage, mostly because it isn't instantly appealing to the general readership. So if you're scratching your head right now, you're quite likely not alone.
A project by the same Advanced Technology and Projects (ATAP) group that is working on
modular smartphones
(Project Ara) and
"smart" tattoos
, Project Tango is, simply put, about mapping the world as we see it. Especially in-doors, where a Google Street car will have a hard time making a right. The search giant produced a promo to show just how it is hoping to achieve such a feat, though that one was a little light on exact details. We're still oblivious to the sheer code wizardry that goes into such an undertaking, but a bug report spotted on the Chrome issue tracker database by
Myce
at least partially answers that question.
As was apparent from just looking at the prototype smartphone that was showcased by the Tango team, there are quite some cameras on that thing. As we now know, however, these number exactly four:
a standard, 4-megapixel color backside camera
a 180-degree, wide angle camera (Fish eye)
a depth camera shooting at 320x180@5Hz
a front camera with a 120 degree field of vision
All of this camera gadgetry is designed to track each and every movement of the device while creating a 3D map of your environment at the same time.
Now, all of this is obviously unlikely to ever end up in a commercial smartphone you can grab at Walmart, but it's quite likely that, should this become successful, the fruits of labor will eventually be ours to enjoy. Just having buildings and such mapped should bring about a vast number of new services that will eventually make it into our smartphones, and that's precisely why Google will be distributing the first batch of these bad boys to developers.
The guys working on Project Tango
are
right: the future indeed looks pretty darn awesome.