Google's Project Tango wants to map the world with smartphones
5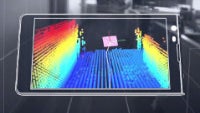 When Google agreed to sell Motorola to Lenovo for
$2.91 billion
, the sale agreement did not include the Advanced Technology and Projects group which has pioneered biotech security and the Project Ara modular phone. Today, the group unveiled its newest effort, called Project Tango, which has incredible implications for mapping and augmented reality.
Project Tango is a specially designed smartphone with dual rear cameras - a 4MP camera and a motion sensing camera - a depth sensor, and two "computer vision processors". That may not sound like much, but the system can measure and map the 3D space around it, which is pretty impressive. According to Johnny Lee, the leader of the Project Tango team, the "sensors allow the phone to make over a quarter million 3D measurements every second, updating it's position and orientation in real-time, combining that data into a single 3D model of the space around you."
The obvious potential for this project is in navigation. If Google can map the entire world, inside and out, it would be able to offer extremely precise directions, which the team mentions in regards to helping blind people find their way around. It would mean very granular directions both indoors and outdoors going off-road, which isn't something Google does yet. The project would also have huge implications for augmented reality, because you'd be able to overlay information on a 3D model of the world rather than a flat image.
Google has produced 200 Tango devices and will be distributing them to developers in order to see what other use cases can be created. The technology is still in the very early stages though.