Weird LG Optimus Pad commercial features kicking Steve Jobs Street Fighter style
8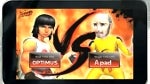 Now, that's probably been in the making way before Steve Jobs announced he will be on
medical leave
from Apple, but LG is at it again, with a commercial that leaves you scratching your head.
The company that is not a stranger to
weird commercials
with villains named Applehead (also embedded below just for kicks), and is splurging on huge neon signs on Times Square regardless of
last year's Q3 financial results
in the mobile division, has a fun section in one of its
LG Optimus Pad
tablet promo videos.
We won't tell you what it is, you can see for yourself at around 1:00 in the video below, we'll just say that it ends up badly for a single-core fighter with the face of Apple's CEO, kicked by the dual-core Optimus. Make of it what you will, but it looks like weird commercials are the norm at this year's MWC, Sony Ericsson
notwithstanding
.