Waterproof your smartphone or tablet using Liquipel coating
17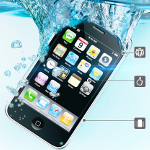 Perhaps one of the most practical products being displayed at CES 2012 is
Liquipel
. This is a invisible spray that protects the exterior and interior of many smartphones from water damage. The company says that at the moment it can protect the
Apple iPhone 4S
,
Apple iPhone 4
,
Apple iPhone 3GS
,
HTC EVO 4G
,
HTC EVO Shift 4G
,
T-Mobile myTouch 4G
,
HTC ThunderBolt
,
Motorola DROID X
,
Motorola DROID X2
and the
Samsung Charge
. If your device is not on the list, ther company suggests that you email them or call them (the address and phone number can be found at the sourcelink), since they are adding new handset models all of the time.
The Liquipel coating cannot be detected by the human eye and costs $59 for the coating to be applied no later than the second day after they receive your phone. For $10 extra, the coating can be sprayed within 2 hours after your phone is received. For $79, the spray and a transparent super-thin colating called Gadget Film will be applied directly to the surface which protects your smartphone from scratches.
At CES, Liquipel took a tissue covered with the product and dunked it in water. The water slid right off leaving a dry tissue. And in case you are wondering, Liquipel needs to be applied to your phone only once. One spray could give you
piece of mind
next time you use the bathroom.
source:
Liquipel
via
Gizmodo