Want a 24k gold plated HTC One (M8)? Here's where you can buy one
22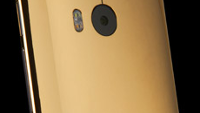 Remember that 24k gold plated
HTC One (M8)
that
was presented to T-Mobile CEO John Legere
by the Taiwan based manufacturer? Did you feel a pang of jealousy when you saw the picture of the executive holding his gold plated HTC One (M8)? The good news is that you don't have to have that green monster living inside you anymore.
Goldgenie is offering a trio of plated SIM free HTC One (M8) models, including the 24k variant we just mentioned. To walk around like you're the CEO of T-Mobile, it will cost you $2,560.95. If platinum makes you feel richer, you can get an HTC One (M8) plated in that instead, for $2830.95. A rose gold plated model is also available for $2695.95. No matter which version you select, your phone is shipped to you inside a luxury Cherry Oak box. Hey, it deserves nothing less.
John Legere was given his gold plated handset directly from HTC. You might not be as lucky, and it will cost you some dough to be sure. But just imagine how special you will feel whipping out of your pocket any of these three plated HTC One (M8) models . And when you have a chance, you can look up
Conspicuous Consumption
on Google.
source:
Goldgenie
via
AndroidCentral