Want ART on your Android 4.4 powered Nexus 5,4, 7 and 10? Here's how
34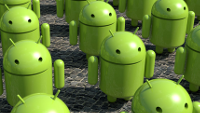 You might recall that back in November, we told you how
Android 4.4 features Android RunTime on an experimental basis
. The runtime environment is actually disabled on Android 4.4 as the Dalvik VM continues to use its "just-in-time" process for compiling the bytecode of an app. Dalvik won't compile the bytecode until you open an app. With ART, the bytecode is compiled when you install the app. This head start allows ART to run an app twice as fast as Dalvik while using half the resources of the processor.
If you own the
Nexus 5
,
Nexus 4
,
Nexus 7
or
Nexus 10
, and they are powered by Android 4.4.2, you can enable ART to run on your device and have a fairly smooth ride. ART wasn't ready for prime time on Android 4.4, but the later build seems to be offering a better experience.
Let's get going. First, you need to enable Developer Options on your Nexus device. Go to Settings > About and find the build number. Tap it repeatedly. You'll be prompted when you are close to enabling Developer Options, and then you will see the final prompt.
Now, go to Developer options and scroll down to "Select runtime." Pick ART and it is all over but the shouting. Your Nexus device will reboot which should take at least 20 minutes and all of your apps will be converted to ART. Keep in mind that not all apps have been configured to work with ART.
The last step is to let us know if you notice the difference in speed when opening and running apps on your Nexus device. Eventually, all Android devices will be using ART.
source:
RedmondPie