Wall Streeter says Apple has made a final decision to use a 4.8 inch screen on the Apple iPhone 6
80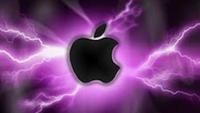 Timothy Arcuri, an analyst with Cowen and Company, says that Apple has come to a final decision regarding the screen size of the next-gen iPhone. According to Arcuri, the Apple iPhone 6 will feature a 4.8 inch screen, up from the 4 inch glass currently employed by Apple on its flagship model. The analyst reached this figure after doing some checks of Apple's supply chain.
The report to investors dovetails a similar one made in September by well connected Ming-Chi Kuo of KGI Securities. That report said that the iPhone 6 will have a larger screen, but will not be as large as 5 inches. This way, the phone could still be operated with one hand. Whatever Kuo says should be listened to intently. Last year, weeks before the
Apple iPhone 5s
was unveiled, the analyst
correctly predicted that the next flagship iPhone would have a fingerprint scanner
embedded in the home button and even correctly wrote of the sapphire that the home button would employ. More recent reports have Apple designing two separate models,
a 4.7 inch iPhone 6, and a 5.7 inch phablet
.
Arcuri says that the next iPhone will also offer the latest Wi-Fi standard, 802.11ac. Macs that Apple refreshed last year include the new standard, but the Apple iPhone 5s is limited to 802.11n connectivity. He also says that the next major iOS release will feature "
key software innovations
" with new features based on iBeacon, Passbook and TouchID. Besides the latter, he expects the 64-bit A7 processor to give Apple the ability to offer features that would allow it to gain a step up on its rivals.
The analyst expects a September unveiling of the iPhone 6, but some sources have told him that a June launch of the next generation iPhone is possible. In addition, Arcuri is also calling for the launch of a 13 inch Apple iPad later this year, which he says will blur the line between tablet and PC.
source:
AppleInsider