WSJ excerpts upcoming book about Apple after Jobs
13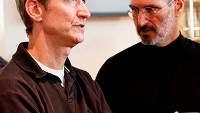 Excerpts from an upcoming book called "Haunted Empire, Apple After Steve Jobs", describes the difficulties that Apple CEO Tim Cook faced in trying to escape the shadow of his former boss after his death. One Apple employee even had a vanity license plate made with the initials "WWSJD" which stood for "What would Steve Jobs do?"
At first, Apple was a bit off-balance following Jobs' passing. If Steve Jobs was the dreamer, Tim Cook was the common-sense guy. It was a pairing that worked great for the Disney brothers and for Lennon-McCartney. While Steve Jobs relied on his gut to make decisions, Tim Cook was strictly a numbers man, according to the book. But with Jobs gone, there was a huge void at Cupertino. And to make matters worse, Cook was so quiet that many inside the company really knew very little about him.
"To some, Cook was a machine; to others, he was riveting. He could strike terror in the hearts of his subordinates, but he could also motivate them to toil from dawn to midnight for just a word of praise."
-excerpt from Haunted Empire, Apple After Steve Jobs
According to the book, Cook had high expectations for Apple. When it was pulling in $6 billion a year in revenue, he told the procurement team to act as though it was taking in more than three times that. Some described him as a machine and others marveled at his stamina. The book also calls Cook frugal, but generous and he started a matching charity program at Apple once he took the CEO title back in 2011. And according to the excerpts, he listed Robert F. Kennedy and the Rev. Martin Luther King Jr. as among his heroes. Pictures of both adorned his office.
"Haunted Empire: Apple After Steve Jobs," will be published March 18th by HarperBusiness. No word yet on pricing.
source:
WSJ