Video shows latest complaint from Apple iPhone 5 users: static lines on QWERTY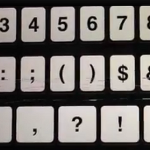 So far the
Apple iPhone 5
has
come out of the box with nicks and dents
and the heralded mapping application that came with iOS 6 does a
great job of getting you lost
. Some owners of the phone say
that it is leaking light
. Now, the latest problem to affect iPhone 5 users has appeared on a brief ten second video. It shows
static lines running across the handset's virtual QWERTY keyboard
. According to those affected by this glitch, it only happens when users try to enter their password for entry into the Apple App Store or iTunes Store.
confirmed by an Apple support rep
who said the same thing.
Apple iPhone 4S
owners are nor experiencing the same problem which hints that the static lines problem is exclusive to the new model.
So far there has been no word about this from Apple. The Cupertino based manufacturer has been hearing a lot of, uh, static recently from those finding blemishes on their new phone the first time it comes out of the box. While there are other mapping apps that can replace the Apple Maps application until it can be perfected, there is no magic fix for the blemishes that are appearing on what is supposed to be a flawless new device when you first take the Apple iPhone 5 out of the box. As for the static lines, we're sure that a software update could remove those unsightly things.
source:
CNET