Video shows Palm Pixi running on webOS 1.3.1
This article contains unofficial information.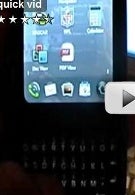 We recently
told you
that the Palm Pixi would be shipped with a newer build of webOS than was shipped with the Palm Pre. The article gave evidence that Pixi was powered by the 1.29 version of webOS and the question we had discussed was, will the new handset be shipped with webOS 1.29 or 1.30. We don't have the definitive answer because Sprint is expected to launch the device on November 15th-enough time to change any info we give you. But, just for the heck of it, the guys at Wirefly posted a video on YouTube and it shows the Palm Pixi running webOS 1.31. What is interesting is that is the exact build that was seeded to certain developers. The UI is snappy on the video and it probably is a good bet that the 1.31 version of webOS will be what ships with the Pixi. Since stranger things have happened, let's just go with the phrase "most likely" as in, it is most likely that the Palm Pixi will be launched November 15th at Sprint sporting webOS 1.31. Did you ask, "How much?" It should cost you $99.99 with a $100 rebate and your John Hancock on a 2 year contract.
Palm Pixi Specifications
source:
precentral