New webOS build for Palm Pixi?
This article contains unofficial information.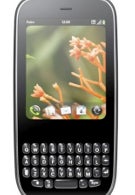 DSL Reports keeps a log of which devices access their system for speed tests and a precentral reader passed on the interesting info that a device called the Pixi, using webOS 1.2.9, went through a speed test and was logged into the DSL Reports system. This should be enough evidence to expect the Pixi to ship with an upgraded version of webOS at launch. The question remains, will it be 1.2.9 or version
1.3
? The Sprint model of the Pre currently is loaded with version 1.
2.1
of the webOS software. The new OS is expected to have a new Facebook app sourced from Palm, and Synergy integration with Yahoo and Linkedin. The Pixi is set to be released on November 15th at Sprint, for a price of $99.99 after a mail-in-rebate and your signature on a 2 year contract.
Palm Pixi Specifications
source:
DSLReports
via
precentral
,
EngadgetMobile