Video allegedly shows prototype of the Apple iPhone 7
35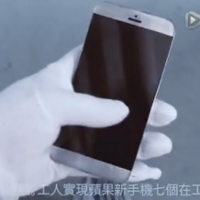 A video has surfaced allegedly showing the
Apple iPhone 7
. We suggest taking this with a grain or two of salt, especially since those who shot the clip are tying too hard to make it seem like the real thing. Supposedly filmed at Foxconn (note how the person holding the phone is wearing what appears to be the protective clothing and gloves employed by assembly line workers), we hear someone (a security guard, perhaps?) yelling "Hey!" as though they have caught someone in the act of filming something that is off limits.
If you look closely, you can see part of the Foxconn logo appear at around the same time that the shout is heard. As we said, someone is trying too hard to make this look real. As for the phone itself, this alleged prototype has no home button, a bezel-less design, and a camera positioned in the middle of the back with no flash spotted. The front-facing camera is also centered. Even though the iPhone 7 will likely sport a new design, it all smells like a fake.
Having said that, back in March 2014, the
Apple iPhone 6
was
leaked more than five months before it was officially unveiled
. Someone claiming to be a Foxconn insider snapped pictures showing the now famous antenna lines and the protruding camera. We couldn't have known it at the time we passed those pictures along to you, but they were genuine.
We don't get that feeling with this clip, but you can still check it out by clicking on the video below.