Vertu announces the Constellation, a $6600 leather-backed Android phone
17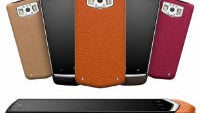 Just in case you're in the market for a smartphone that costs almost as much as a Sony XBR65X900A 4K Ultra HD TV, Vertu has got you covered. Vertu has always been the go-to manufacturer if you wanted an obscenely expensive mobile phone, and while its new Vertu Constellation doesn't quite hit the heights of the
Vertu Ti
, it still clocks in at a cool $6600.
The new Samsung Galaxy Note 3 may have faux stitching on its plastic back to make it look like leather, but the Constellation will be using real, straight-from-a-baby-cow leather. The soft calf leather will come in five colors: black, light brown, dark brown, cherry, and orange (that's right Motorola,
orange is a color
!); and, it will be used to cover the Constellation's Grade 5 titanium body.
According to Vertu's CEO Massimiliano Pogliani, the Constellation is aimed at a different market than the $10,000 Ti, saying:
You want the full monty, concierge? You go for the Ti. You want a more easy approach, still belong to the group with privileged access, sleekier design, more unisex? You go for the Constellation.
And, as you might expect, despite the price tag, the Constellation does not have top-of-the-line specs. It will be running a "lightly customized" Android 4.2, and will offer a 4.3-inch 720p display and a 1.7GHz dual-core Snapdragon S4 SoC with a beefed up GPU, a 13-megapixel camera with dual LED flash, a 1.3-megapixel front shooter, a 1,800mAh battery, 32GB of storage, and no LTE.
The device will retail for €4,900 (about $6,630) and should work just fine on either AT&T or T-Mobile, though it obviously won't be offered directly through either carrier. It will be available in select Vertu stores this month, but even seeing the device will be by appointment only.