Verizon's system shows an LG Android phone and two Microsoft handsets
This article contains unofficial information.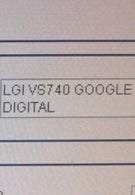 We can't be more thankful to Verizon for frequently updating their inventory system with all the new stuff that will end up being offered by the carrier. Now, one of the latest additions to the database seems to be the not yet announced
LG VS740
- a phone which got
spotted at the FCC
a month ago. As you might guess, there's no other information about that device as of now, except for one small bit of detail - Google's name is written right next to it, so you know what this means, right? We hope it will soon join the existing Android line-up on Verizon.
However, the LG Aloha VS740 is not the only new device in Verizon's system that is of interest to us. It looks like there are also two Microsoft handsets, dubbed the MSONE and MSTWO, both seemingly manufactured by Sharp, which was the manufacturer of the Sidekicks. We see where this is going now, everything points at a
Turtle and Pure announcement
after a few hours. Stay
tuned
!
Thanks, anonymous tipster!
UPDATE:
Coming across this
Wi-Fi certificate
, we realize this might be the LG Aloha (which was also
leaked as the C710
) with support for Wi-Fi 802.11b/g/n. To make things even more confusing, we should say that there were rumors pointing the VS740 will acutally be Verizon's version of the LG LU2300 Android phone with 1GHz Snapdragon chipset, 5MP camera and 720p video playback, which will be available in South Korea, so it seems it may be one very beefed-up handset. Thanks to some inside sources, we also learned that the LG Aloha VS740 should be launched in
Q2
.
If you have some interesting info that you'd like to share with us, feel free to
Tip Us!