Verizon to get social on Monday with announcement of Microsoft's Turtle and Pure?
This article contains unofficial information.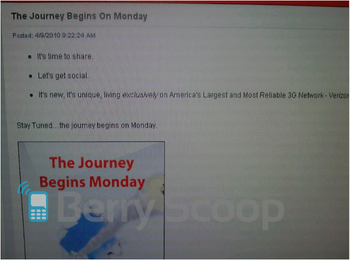 Verizon has apparently sent an e-mail to employees saying that "The Journey Begins On Monday". That obviously is a heads-up to employees to expect at least one new device to be announced after the weekend. The message continues with the phrases, "Let's Get Social" and "It's Time to Share". Those two sentences come straight from Microsoft's invitation to its own Monday party to introduce the Project Pink phone duo. With the e-mail saying that Verizon will have an exclusive on whatever will be announced at the beginning of the week, the Pure and the Turtle would now seem to be available only through Big Red, which will probably make it official at its own Monday gathering. While many of you in the target demographic age for both handsets are pumped for next week's season two premiere of Glee, the introduction of two more messaging phones for the nation's largest carrier might steal a little bit of thunder from your thoughts. After all, how cool is a phone named Turtle? And as if we needed more confirmation that the Project Pink phones are for real, memory card maker SanDisk accidentally let slip to the press that both models will have microSD slots that will support SanDisk's microSD cards. With friends like that...but we digress.
One alternate opinion comes from a reader of Android Central who says that the "Journey" on Monday will be the launch of NFL Mobile for Verizon. This is based on the fact that the object that is spiraling through the air on Verizon's flyer is shaped like a football. Of course, that doesn't explain the coincidence of the same exact phrases being used on both Big Red and Microsoft's messages. No sense in wasting brain function on this. Monday is rapidly approaching and we will know by the end of that day.
source:
BerryScoop
via
AndroidCentral