Verizon's LTE spot tests are in, ranging from 7Mbps to the insane 32Mbps download speeds
9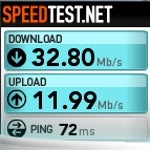 The initial spot test results of Verizon's
newly-minted LTE deployment
are in, and the speeds are fast. The virgin network currently has only a few people on it, mainly from the tech media, who got LTE dongles sent to them for review. The real testing will begin when the gear is available for purchase starting Sunday, so next week we should have even more results in.
Still, seeing confirmed speeds of 32Mbps download pumped to you without any cables attached is a revelation. That is what MSNBC has managed to obtain with full bars in Seattle, and Verizon had said "yep, it's possible". With less than stellar signal strength, download speeds range from 7-9Mbps, which is still more than what your home broadband probably supplies to you.
The spot tests are from New York, Seattle, Philadelphia, Arizona and Boston. From what Verizon's CTO Tony Melone said at the press conference the other day, it is clear that Big Red is aiming for providing enough capacity and stability of the network, so these insane speeds will probably be valid for quite a while anyway.
At those prices, though, it doesn't really matter if you will eat your 5GB for $50 allotment in a few minutes or two hours - these data caps will last a month only if you do light browsing and checking email anyway. Downloading or streaming a couple of movies can eat your 5GB or 10 GB allotment in a heartbeat, and then the $10 per GB overages kick in.
And we thought those $95 for 30GB that European carriers are
charging for LTE
per month sounds steep. Verizon obviously doesn't want you to replace your FiOS broadband with LTE service anytime soon. There is always a price for being an early adopter.
via
Gizmodo