Verizon's Droid Charge to support up to 10 devices with its mobile hotspot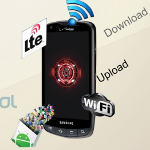 Leaked internal Verizon documents give us some new information about the Samsung Droid Charge this morning. According to one image, Verizon is starting to introduce the device to its personnel by way of an online course. Big Red's first LTE enabled Droid has plenty of high-end specs to get Verizon's customers excited.
Carrying a 4.3 inch Super AMOLED plus display with a resolution of 480 x 800, and a newer generation 1GHz Hummingbird processor under the hood, the Samsung Droid Charge will be launched with Android 2.2 running the show. The device has 512B of RAM and ROM on board and offers an 8MP camera on back and a front-facing 1.3MP shooter. Unfortunately, the carrier is still waiting for its first dual-core handset.
One interesting feature of the Samsung Droid Charge, which was revealed in a leaked internal document comparing a number of Verizon's smartphone offerings, is that the mobile hotspot on the device will allow as many as 10 devices to connect to the carrier's network. That means no matter where you go, you will have 10 new friends following you around.
source:
AndroidCentral