Verizon sold more Android phones than iPhones in Q2 2012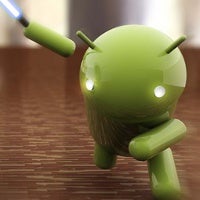 Here's an interesting little piece from Verizon's quarterly results today - the
US largest carrier sold more Android devices than iPhones
from April to June 2012. Android device sales stood at 2.9 million, while iPhone sales dropped to 2.7 million.
While last quarter, more than half of the smartphones Verizon sold to customers were iPhones, now the numbers have switched places and Android took the lead. In the first quarter of 2012, Big Red sold
3.2
million iPhones, and now that number has dropped by half a million.
Nothing outworldly given that the iPhone was launched in October, so this was its third quarter on the market, and customers are starting to anticipate the new iPhone. Android sales on the other hand were steady.
It's interesting to see how the proportion of iPhones versus Androids sold will change in the ongoing third quarter. We have the huge launch of the Verizon Samsung Galaxy S III that will probably swing it even further in favor of Android. The iPhone could still change that if a new LTE-enabled Apple device launches in September, if not the real battle will be delayed for the last quarter of 2012.
source: Verizon Wireless