Verizon sends out a new video teaser for "shatterproof" Motorola DROID Turbo 2
17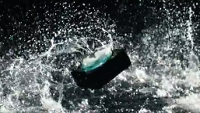 Earlier this week,
Verizon tweeted a video teaser for the Motorola DROID Turbo 2
. That video focused on the "shatterproof" screen that will be offered on the handset. According to a leaked Verizon brochure, this model will be
the first smartphone ever to be equipped with a display that won't crack
. Today, Big Red fired up the ol' Twitter machine to send out a sequel, which once again concentrated on the display.
The tweet itself says, "
Soon you'll worry more about snowfalls than phone falls
." The video then begins with white letters on a black background that reads "
Your expectations will be shattered
." The video itself appears to show a snow globe shattering on the DROID Turbo 2 screen in reverse, although it is really hard to tell. Check out the slideshow to see individual frames from the video.
On October 27th, this coming Tuesday,
we should see Motorola introduce the Motorola DROID Turbo 2 and the Motorola DROID MAXX 2
. Both will offer up to 48 hours of battery life. According to a leaked Verizon info sheet,
15 minutes plugged into an outlet will provide 13 hours of power
. And unlike the OG
Motorola DROID Turbo
, the sequel is said to include a microSD slot (featuring a 2TB capacity).
Could this video be hinting that
the new model will be waterproof
like the third-generation
Motorola Moto G
? The current DROID Turbo model uses P2i's nanocoating to make the phone and its internal components resistant to spills and light rain.
If you plan on making the DROID Turbo 2 or the DROID MAXX 2 your next daily driver, keep checking in over the weekend for the latest rumor, leak or news related to Tuesday's unveiling.
source:
@Verizon