Verizon video teases the shatterproof glass on the Motorola DROID Turbo 2
11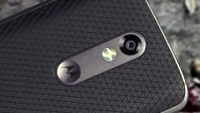 With the Motorola DROID Turbo 2 and Motorola DROID MAXX 2
both expected to be unveiled one week from today
, Verizon has tweeted out a video teaser for the DROID Turbo 2. The phone is expected to feature a shatterproof display,
confirmed by a leaked Verizon brochure
. Which means that the marketing guys at Big Red are having the time of their lives coming up with a number of witty puns that suit the occasion.
Take the video teaser. The clip shows a DROID Turbo 2 falling for about 11 seconds. At the end of the video, the tag line reads, "
The new DROID is dropping soon
." On one hand, that means that the DROID Turbo 2 will soon be released by Verizon. But it also means that people will be dropping their new DROID, and since the screen is shatterproof, they are doing so without fear. "
Introducing the perfect phone for imperfect people
," Verizon tweeted.
The DROID Turbo 2 is expected to be equipped with a 5.4-inch 1440 x 2560 QHD display, carrying the Snapdragon 810 SoC under the hood. The chipset will offer an octa-core CPU and the Adreno 430 GPU. 3GB of RAM is inside along with 32GB/64GB of native storage. The 3760mAh battery is 140mAh shy of the 3900mAh capacity juicer on the OG
Motorola DROID Turbo
.
As we already said, the Motorola DROID MAXX 2 will also be unveiled at next week's event. The leaked brochure we mentioned before, shows that Verizon will be touting the handset's ability to get up to 48 hours of mixed use battery life, as it did with the previous version of the phone. A 3630mAh battery is inside the new model, up from the 3500mAh found in the OG
Motorola DROID MAXX
.
The video teaser can be found by clicking on the sourcelink.
source:
@Verizon