Verizon preparing update to repair rebooting issue on the HTC ThunderBolt
15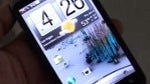 Ever since they
downloaded
the latest maintenance update, some owners of the HTC ThunderBolt are reporting that their trusty LTE enabled device is acting as if it were, well, hit by lightening.
Random reboots
are becoming the scourge of ThunderBolt users and a leaked internal Verizon memo says that there is no short-term cure for the problem. That doesn't mean that those who shelled out their hard-earned cash for the phone are stuck with this problem forever. In fact, the carrier does have a game plan for handling this situation.
According to the leaked memo, if the reboots are becoming
severe
and the customer finds the whole thing unacceptable, Verizon reps are to replace the phone with a
Certified Like New Replacement
(CLNR) model. If the problem is not too severe and the owner of the HTC ThunderBolt can wait, an update is being penciled in for the second half of this month, which will solve the problem.
It is up to the owner of the handset to make the decision whether to accept a CLNR unit or wait for the fix which will apparently be sent out sometime in the next three weeks (most likely toward the end of this month). Either way, it looks like Big Red is not going to let those who purchased its first 4G enabled handset to
suffer
forever.
source:
AndroidCentral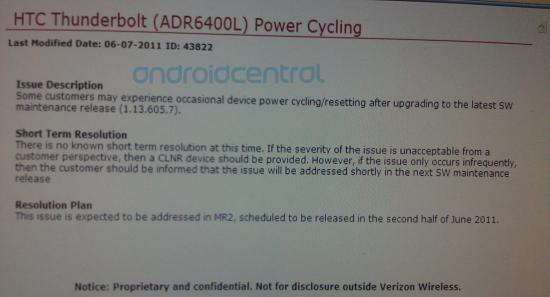 This leaked internal Verizon memo lays out the options owners of the HTC ThunderBolt have if their handset is randomly rebooting