Verizon insider leaves poem that hints that the Motorola Droid Bionic is just weeks away
16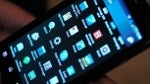 A tip is a tip no matter how poetic the prose. An alleged Verizon insider, BlackmanX, who usually hangs out at the Android Guys forum, has written a clever poem that gives a hint that the Motorola Droid Bionic is just weeks away. The device will be Big Red's first dual-core phone and will be equipped with a 4.3 inch screen with qHD resolution. 512MB of DDR2 RAM is on board while an 8MP camera on the rear of the unit captures 720p HD video. There is also a .3MB front facing camera for video chat.
While the specs sound hot, let's get to the gentle words of the poem:
"When beer flows in the color of envy and the rainbows are all but empty and you bask in the Thunder so bold...But if it's another device that you seek to reach your peak, then you might have several weeks. For in the LTE a new device shall shine, and perhaps that is fine if dual cores you don't mind...For Steve Austin moves like a blur, Unless it's stock style you prefer...but it's calmness we shall seek, and shy away from the hype-beast. So those signing two-year choices, don't blame panda forces, but the unknown sources that raise your hopes so high...Cause at the end of the tweet a Sneaky Panda speaks and says YOU MAY WANT TO WAIT TO BUY"
O.K., so its not Poe but the poem does tell us that we could see the Motorola Droid Bionic launched a little earlier than expected. Of course, the HTC Thunderbolt, as Verizon's first 4G handset, is currently the Phone du jour for the carrier, but we're sure that there are quite a few Verizon customers waiting for the dual-core speed of Motorola's next Droid.
source:
AndroidGuys
Recommended Stories