Verizon gives Top Ten reasons to buy a Samsung Galaxy Tab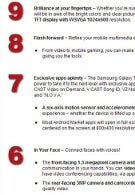 Just as it did with the Galaxy S smartphone, Samsung will have a variant of its Galaxy Tab Android flavored tablet on each of the top four U.S. carriers. Of course, each carrier will be adding certain features in an attempt to make the tablet undeniably theirs. But take away all of the bloatware and carrier branding, and you are left with the core features of the tablet, laid out by Verizon in a Top Ten list that shows the reasons to buy the device.
The number 10 reason to buy the tablet is because of Froyo. Android 2.2 allows the device to support Adobe Flash which itself weighs in as the 8th reason to buy the Galaxy Tab. In between the two, the 9th reason to own the Galaxy Tab has to do with the 1024 x 600 resolution TFT display. The front facing 1.3MP camera allows for video conferencing through Wi-Fi, good enough to be number 6 while the 5th top reason to buy the Galaxy Tab is the web browsing experience using the full HTML browser and the pre-installed Swype keyboard.
The Samsung Galaxy Tab weighs less than a pound and is equipped with a 4,000mAh battery. The combination comes in at number 4 for the easy mobility of the tablet and the many hours that you can use it before needing to recharge the battery.
The number one reason to buy the Samsung Galaxy Tab? Verizon's 3G network. It might sound like bragging, but the carrier says, "From e-mail, to web browsing, to social networking, our network is backing you up with each great feature you're empowered to use." While the other carriers might agree with the rest of the list, Sprint, T-Mobile and AT&T would probably each have their own number one reason to buy the tablet.
Samsung Galaxy Tab CDMA Specifications
|
Preview
(EU version)
source:
DroidLife