Verizon CEO says that the carrier never had a shot at the original Apple iPhone
50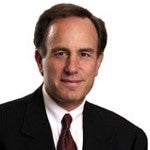 We all know the myth. Steve Jobs and his gang come over to Verizon carrying with them a prototype of the iPhone. While Big Red executives like the product, they feel that Jobs is asking for too much control over billing, so Verizon says no and the Apple gang move over to AT&T. The rest is history.
It's a great story and one that seems perfectly believable except for one little, minute detail. It never happened. According to Verizon CEO Ivan Seidenberg, Apple was concentrating on GSM technology with the first iPhone and thus, Verizon was not considered for Apple's first-generation touchscreen handset.
In a recent interview with Charlie Rose (who spoke with Seidenberg in June 2009 as we recently reported in our nostalgic look back at phoneArena's coverage of rumors about a Verizon branded Apple iPhone), the Verizon CEO said that Apple had wanted one carrier to carry the new device in every major market, and since the Cupertino based firm had been focusing on GSM, the firm chose AT&T. As Apple started expanding the iPhone to multiple carriers in other countries, Verizon and Apple returned to the bargaining table.
As for who started the recent talks that led to the Verizon iPhone, Big Red's top executive said that he had called Steve Jobs and gone out to visit him. Said Seidenberg, "We consciously reached out to them more than once. This was the view that we had that...eventually their interests would align with ours." He also made an interesting statement when he called the Apple-Verizon partnership a strategic one considering that Verizon is further along in 4G than other carriers (we are not sure that Sprint or T-Mobile would agree).
As for those Verizon customers who worry that the carrier will start to focus on the iPhone to the exclusion of other products, Seidenberg's comment left no doubt that there should be no worries in that department. "We're going to continue to do a great job on the BlackBerry and a great job on the Droid," the CEO stated.
source:
AppleInsider