Update adds cool new feature for some YouTube videos on Google Search
2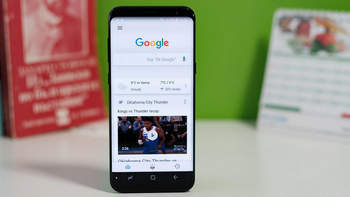 Rolling out via a server-side update to the Google Search app on Android is a new feature that is called "In this video."
Spotted by Android Police
, this is a timeline for certain YouTube videos that appear on a Google Search result. For example, let's say you search for "steps to knit a scarf video." If the top result includes an "In this video" tineline, you'll see exactly where specific content is available on the video. For example, in the image that accompanies this article you can see that information about choosing yarn and needles starts at the 32 second mark of the video. At the 7:33 mark, the content is about knit stitch. You can swipe to the left to advance the timeline and tapping on any of the time stamps takes you directly to that portion of the video.
When you're viewing a how to video on YouTube, you're often under some pressure. Most likely, you're a complete novice when it comes to the procedure that you are attempting to quickly learn. So instead of having to view a long video that includes steps that you might not need to know about, with the timeline you can focus on learning the specific steps you do need to take to accomplish your task.
While some say that the "In this video" feature has surfaced on version 10.7.4.21 of the Google Search app, it has yet to appear on our Android 9 running
Pixel 2 XL
running that very version of the app. What we can tell you is that it seems that Google is grabbing the information for the timeline directly from links found in the YouTube video's description.