Update on Verizon rumors: HTC DROID Incredible 4G LTE June 21st, Samsung Galaxy S III July 9th
7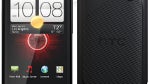 Update: Verizon has sent out email that confirms the July 9th shipping date for the Samsung Galaxy S III. Check out the image at the bottom of the story!
source:
AndroidCentral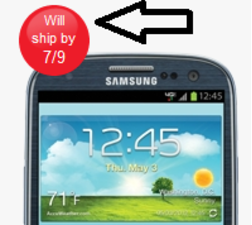 Verizon's own web site shows a July 9th shipping date for Samsung Galaxy S III pre-orders
According to a source for Droid-Life, the HTC DROID Incredible 4G LTE
will launch on June 21st
. According to Verizon's MAP pricing,
the device will cost you $149.99 with a signed 2-year contract
. That makes sense since earlier intelligence indicated that Verizon was going to
offer a $50 mail-in rebate with the phone
and the pre-rebate price of $199.99 on contract. The HTC DROID Incredible will cover the mid-range handset territory for Big Red.
We would imagine that the $50 rebate allows for Verizon to differentiate between the HTC DROID Incredible 4G LTE and the
much more highly spec'd Samsung Galaxy S III
which is being priced at $199.99 for the 16GB model. Speaking of the sequel to the device considered to be the greatest Android handset ever built,
Droid-Life's
sources tell the site that the unit will launch on Verizon June 28th. That contradicts information spotted on a leaked internal Verizon email that
calls for a July 9th launch of the phone for Big Red
. That date, in turn,
appears on Verizon's own website as the shipping date for pre-orders
.
source:
DroidLife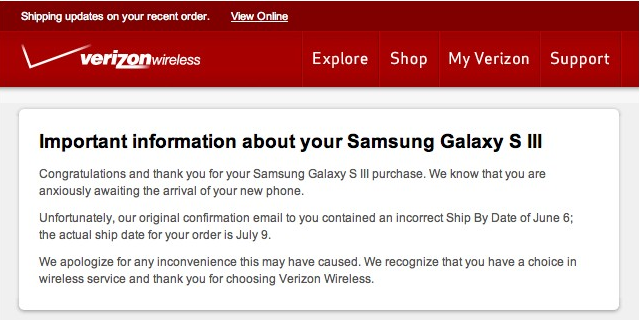 Verizon now confirms the July 9th launch date for the Samsung Galaxy S III