Verizon MAP list shows HTC DROID Incredible 4G LTE with price of $149.99, and Samsung Galaxy S III
28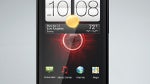 Verizon's Minimum Advertised Price list, or MAP list, shows the
lowest price that a third party Verizon reseller can advertise a device for
. The idea is to prevent resellers from advertising a device priced so low that it would appear to be to be an older model near the end of its life instead of a new device recently launched. It also allows Verizon to keep some type of consistency over nationwide advertising. And while MAP prices are not guaranteed to resemble the launch price of a phone or tablet, often times they are one and the same.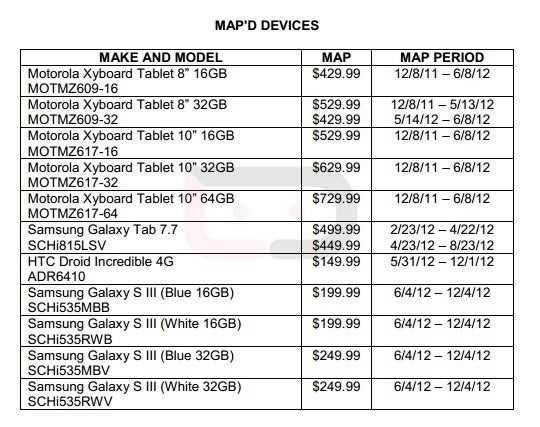 Verizon's latest MAP list
If this connection proves true for the HTC DROID Incredible 4G LTE, we could see Verizon offer the device for $149.99 on contract. the dates covered by the MAP pricing are May 31st through December 1st. Again, these dates might not mean anything,
but they can be a guide as to when the phone might drop
. The $149.99 rice dovetails with information we recently passed on to you that
Verizon will offer a $50 mail-in rebate with the phone
. That would mean that the pre-rebate price would be $199.99 with a signed 2-year pact.
The model is equipped with a 4 inch Super LCD qHD display with pixel resolution of 275ppi and is powered by a dual-core 1.2GHz Qualcomm Snapdragon S4 processor. 1GB of RAM is aboard. An 8 MP camera on back captures video at 1080p while the VGA front facing camera is good for self-portraits and video chats.
Also on the MAP list is the
Samsung Galaxy S III
. The 16GB models in marble white and pebble blue have a MAP price of $199.99 on contract which in this case
does match the launch price as officially announced by the carrier
. The 32GB variant of the phone in either color has a MAP price
that also matches Verizon's announced launch price of $249.99
. We know that the pre-order period for the Samsung Galaxy S III is June 6th which falls early in the MAP period of June 4th through December 4th.
source:
DroidLife