Unofficial tally shows 1 million Google Nexus 4 units have been sold since launch
35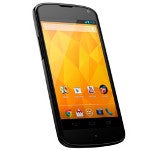 You might recall that last month, a group of XDA forum members figured out a way to determine how many units of the
Google Nexus 4
stock Android handset were sold by plugging owners'
unique IMEI number
from their model into an LG website. The combination of letters and numbers that would appear told a story about each phone such as when and where it was made. The first estimate
produced a sales figure of 375,000
that was quickly shot down by LG as being too low, but the tech firm did not have any sales figures of its own to announce. The Korean manufacturer said that the phone was constantly out of stock online because
Google had given it incorrect sales estimates that were much too low
and not enough units were produced.
1 million units
of the Google Nexus 4 were sold. While Google would not comment on the figure, the company did indicate that it was happy with how the phone has done so far in terms of sales. Meanwhile, the other day, XDA member
draugaz
said the 1,000,000th Google Nexus 4, a black model made on February 5th, was sold in Turkey. LG has really stepped up production of the phone. In October, just 70,000 units were made, rising to 90,000 in November, 210,000 in December and over 550,000 in January. That dovetails with information from an LG executive who said that production was rising and the shortages would be a thing of the past in the middle of February.
At the end of last month, the Google Nexus 4 had returned to the Google Play Store
and while the 8GB model is sold out, the 16GB variant is still listed as being "in stock". That is amazing considering
the phone would sell out within 30 minutes
whenever it was on sale in the U.S. Google Play Store. We should add though, that the device now ships in 2 to 3 weeks, up from the 1 to 2 weeks seen back at the end of January. The attraction here is that the unlocked 16GB model, for $349 without a contract, is giving buyers a phone with great specs with no carrier handcuffs for a very reasonable price. Buyers are getting a 4.7 inch screen with a 318 ppi, a quad-core 1.5GHz Qualcomm Snapdragon S4 processor, 2GB of RAM, a 2100mAh battery, an 8MP rear shooter that captures video in 1080p at 30 fps, and a 1.3MP front-facing camera. The best part of the whole equation is that Android 4.
2.1
runs the show.
Now that supply seems to have caught up with demand to some degree, we could see a big jump in those estimates from the XDA forum and perhaps we will get some official figures from LG in the not too distant future.
source:
XDA
via
TechCrunch