Google Play Store fails again on Nexus 4 sales traffic, Nexus sold out
62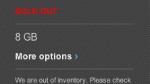 We didn't cut Google any slack
last time around
when we were directly affected, and we certainly can't cut any slack two weeks later, when the same problems hit the Google Play Store during the second round of Nexus 4 sales. That's right, Google had two weeks to work things out, and still had the same issues in the Play Store in today's Nexus 4 sale.
Granted, the issues weren't as bad or as prolonged as last time, but the sale wasn't as long either, because Google didn't have as much in Nexus 4 stock for this round of sales. Last time, just like this time, Google knew that the demand was going to be really high (which is understandable given that Google was selling a top-o-the-line smartphone for $300), but Play Store customers still ran into the issues of the Store claiming the Nexus 4 was sold out before it actually was. In fact, many have reported that the device never showed as in stock.
So far, no reports of the Nexus 4 disappearing from shopping carts, so Google seems to have fixed that issue, which is good.
People are once again reporting that Nexus 4s are disappearing from their shopping carts, so Google really hasn't made any improvements to the system. So, even after seeing exactly what to expect two weeks ago, the biggest Internet company in the world is still falling prey to server crashes because of too much traffic. Unacceptable.
Still, Google has said that
the Nexus 4 is officially sold out
, so no point in continuing to reload if you didn't get a Nexus 4 yet.