UPDATED:Refreshed myTouch 3G due out today? Fender Limited Edition out of stock
5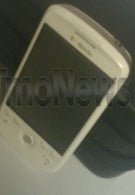 When we last
reported
on what was being called the myTouch 3G 1.2, T-Mobile had admitted that the handset was coming. With today's date of February 10th having been
passed along
as a possible launch date for the refreshed version of the phone, T-Mobile could be ready to put it on sale now. On the carrier's web site, the device is listed as "Coming Soon" and is called the T-Mobile myTouch 3G with 3.5 mm Jack. The new version is available in black or white and while no pricing has been disclosed, the now discontinued original myTouch 3G was going for $149.99 with a 2 year contract.
The main difference between the original myTouch 3G and the refreshed version is the 3.5mm audio jack on the new model along with an increase to 288MB in RAM, up from 192MB. The new model offers the Swype keyboard out of the box. An 8GM microSD card is pre-installed. As a further note, Tmo News is reporting that an OTA upgrade was sent out to the original myTouch 3G models at midnight just to improve call performance. While the new myTouch with 3.5mm Jack is shipped with Android 1.6, it is assumed that an upgrade to Android 2.1 will take place within a couple of months. The Fender Limited Edition has already been confirmed by the operator to be receiving 2.1. Since the refreshed version is basically the same as the Fender model, an upgrade there seems like a great bet.
Finally, T-Mobile's web site is showing that the Fender Limited Edition model of the myTouch 3G is out of stock. Heavy promotion by T-Mobile, using Fender guitar legend Eric Clapton has helped push demand for the unit. It is not known whether or not T-Mobile will re-stock the phone considering that it was supposed to be a Limited Edition after all.
T-Mobile myTouch 3G 1.2 Preliminary Specifications
T-Mobile myTouch 3G Fender Specifications
source:
T-Mobile
,
TmoNews
via
AndroidandMe
*UPDATE*
It is now official as T-Mobile has launched the Refreshed version of the myTouch 3G. Besides the previously mentioned changes, there will also be some apps loaded on the phone out of the box such as Barcode Scanner, Visual Voicemail, myAccount and Music Player. the phone will be known simply as the T-Mobile myTouch 3G and will cost $149.99 with a 2 year contract.
source: T-Mobile