Two new official videos promote features on the HTC U11
23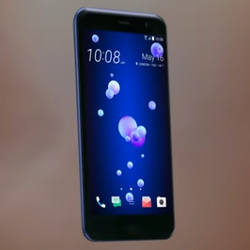 We've often taken pot shots at HTC's marketing department, and quite honestly the comments were well deserved. Who could forget
the alleged $12 million paid to Robert Downey Jr?
The end result was
one bizarre ad that probably cost HTC sales
rather than added to them. Surely HTC wishes that it had that $12 million back. Hipster Troll Carwash indeed. And
the subsequent ad for the HTC One (M8)
that starred Gary Oldman was just as ineffective.
Today, HTC posted two new video promos on YouTube dealing with some of the features on the recently introduced
HTC U11
. Both videos are a major improvement over the company's past promotional efforts. One video, titled "
Squeeze to capture your brilliant moments
," shows how Edge Sense can be used to activate the shutter on the front-facing selfie snapper. And with the IP67 certification rating, you can jump into ye olde swimming hole and record the action. The small print on the video does note that while the phone can be submerged to a depth of 1 meter (3.3 feet), water damage is not covered by the warranty. That also applies to IP67 and IP68 rated phones from other manufacturers like Apple, LG and Samsung.
The second video, "
Made to be heard
," focuses on some of the audio features on the HTC U11. For example, with the USonic headphones, sound is "tuned" specifically to your ear. And with Active Noise Cancellation, outside noises melt away like magic with the earphones on. And with Acoustic Zoom, as you zoom into a subject on video, the volume pertaining to that subject gets louder.
Check out the the two videos by clicking on the video slideshow below.
source: HTC (
1
), (
2
)