HTC: Here's The Commercial with Robert Downey Jr.
34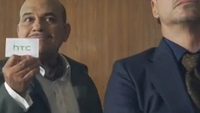 HTC is spending $1 billion dollars to blanket the airwaves
with a new series of television commercials starring Robert Downey Jr. The first two minute extended ad has been released and so far, we can glumly say that this alone is not going to turn the company's fortunes around. Of course, it is only the first ad and frankly, things couldn't get much worse.
The whole ad is basically a word play on HTC.
Humungous Tinfoil Catamaran
.
Hipster Troll Car Wash
.
Hot Tea Catapault
.
Hold This Cat
. As one of the 'executives' says early in the spot, HTC is "whatever you want it to be." Hmmm. Near the end of the commercial, someone asks what this all means. Damned if we know and we've gone back to watch the whole thing a few times.
The ad did show the
HTC One
here and there, but didn't exactly show why you would want to own the phone. Instead we get "Here's To Change" and "Happy Telephone Company." Sure, the brand name HTC might resonate in a few more brains after this ad runs, but so far there is no connection with an actual product. Perhaps that will come next.
Check out the entire ad by clicking on the video below.
source: HTC