Two different Verizon documents point to October 28th as Storm2 9550 launch date
2

This article has been updated.
We have some late night excitement courtesy of Crackberry. They have been able to get their hands on a couple of Verizon documents that point to an October 28th launch for the BlackBerry Storm2 9550. Yes, you have heard it all before, but this time we have some evidence. Yes, you've heard THAT all before. Well, just read on. One member of the Crackberry family was able to pass along a leaked picture of the infamous Verizon intranet blog page which we have all seen before. The
last time
, the date of launch was TBD. Now, it shows a date of October 28th (which is this coming Wednesday for the calendar impaired) for the release of the sequel to RIM's touchscreen device.
Another Crackberry member posted on the forum, a picture of Verizon's Storm2 launch document. That too shows a launch date of October 28th for the 9550. They say there is safety in numbers, and besides these two documents, there have been other things happening that indicate an imminent launch of the handset. We
have seen
the dummy models arrive at Big Red and Best Buy. We have
showed you
the phone photographed and listed (albeit with a slight error of omission) in the Best Buy Mobile Buyer's Guide. Accessories for the phone have
been spotted
at the same two locations as the dummy models. And good ol' Lowell McAdam, CEO of Verizon Wireless, has been
walking around
with a unit in his pocket (is that a Storm2 9550 or are you just happy to see me?) to show off to potential buyers hanging out at Big Red stores. The clock is ticking and by this time next week, those of you waiting could be playing around with your new Storm2. Check out the launch document by clicking on this
link
.
RIM BlackBerry Storm Preliminary Specifications
|
Preview
source:
Crackberry
*UPDATE*:
Yet another image of a document showing that the Storm2 is coming out on October 28 has appeared. It basically features a short description of the phone, pointing out its strong points like the new touchscreen, Wi-Fi connectivity, etc.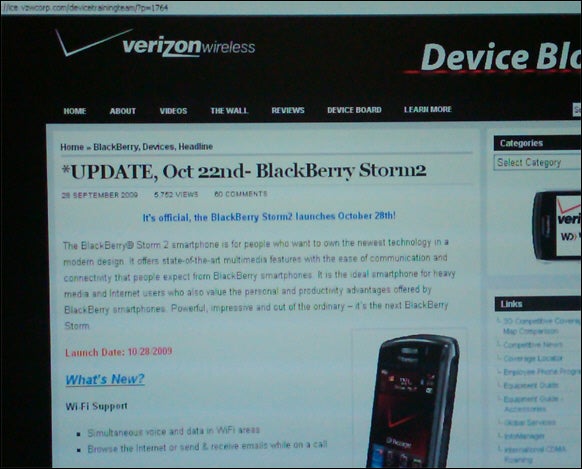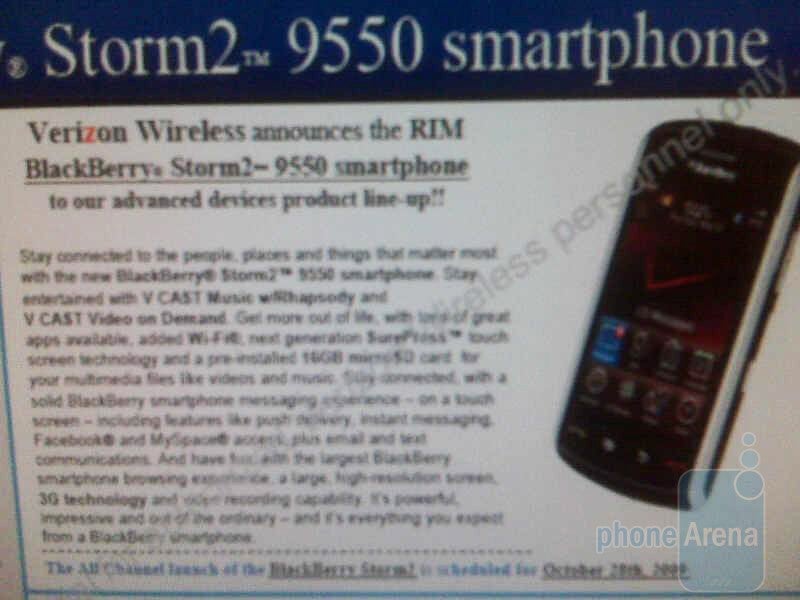 Yet another image showing an October 28 launch date for the Storm2