Best Buy Mobile Buyer's Guide shows BlackBerry Storm 9550, no "2"
This article contains unofficial information.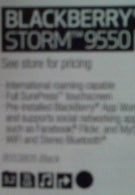 With the BlackBerry Storm2 9550 making it into the latest Best Buy Mobile's Buyer's Guide, it looks like a launch is imminent. We have seen one of the earlier rumored release dates of October 21st go by, and the handset has not even been introduced by Verizon. Of course, after last year's fiasco with the introduction of the first-gen model, Big Red can be forgiven for wanting to make sure that the new unit is 101% ready for prime time before it takes the training wheels off. Anyway, as we said, the sequel unit is in Best Buy Mobile's booklet but with one glaring error. It seems that on the way to the printer, the "2" was dropped from the name of the device making it the BlackBerry Storm 9550. Looks a little naked without the sequel marker. Another omission is the price. But even without the "2" and the price, it is more than apparent that we are extremely close to the launch of RIM's improved touchscreen model. The next rumored launch date is October 25th. If nothing happens then, it will probably mean a November release date.
RIM BlackBerry Storm2 9550 Specifications
|
Preview
source:
Crackberry