Verizon CEO shows off BlackBerry Storm2; 9550 to launch this week?
8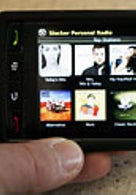 According to a story in today's New York Times, Verizon Wireless CEO Lowell McAdam has been walking around with a new BlackBerry Storm2 in his pocket for the last two weeks. Recently at a store in the New York SoHo district, Mc Adam showed off his 9550 to a pair of NYU students. Let the Exec tell you what happened, "I let them play with the second-generation Storm device," he said."They came back and said 'Oh, my gosh.' They were very excited. This iswhat they hoped the original Storm should be." Mc Adam hopes that this is the reaction from many Verizon customers when the new Storm is launched. According to the Times story, that will occur later this week, although a price was not indicated.
The Times story said that one "improvement" to the Storm2 was a screen that was supposed to feel like a button when pressed. Wasn't that the goal of the SurePress system in the first-gen Storm? But we have seen the videos, we know about the piezo technology, and we are all expecting a much better machine. Speaking of improvements, RIM Co-CEO Mike Laziridis says that his firm is about to release BlackBerry OS 5.0 with better battery life and an improved browser.
RIM has been making the push to try to get more consumers to use its handsets and it looks like this might be working. With lower priced Curve units selling for $50 at Walmart, 80% of 'Berry sales this year have been to consumers. Still, some things must improve. According to the story, while the iPhone has 85,000 apps available at the App Store, BlackBerry's App World has just 2,000 offerings.
RIM BlackBerry Storm2 9550 Preliminary Specifications
|
Preview
source:
NYTimes