Turn your Apple iPhone charger into a spare battery with NomadPlus
6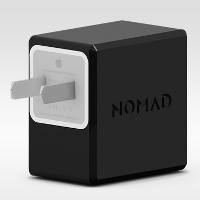 Nobody wants to be labeled as a "wallhugger."
First BlackBerry CEO John Chen
, and
then Samsung
, used that term in a derogatory fashion to describe Apple iPhone users.
Apple iPhone 5s
users receive 5 hours and 2 minutes of battery life on a full charge,
according to our tests
. Some of the iPhone 5s rivals have much longer battery lives. For example, the
Samsung Galaxy S5
will run for 7 hours and 35 minutes, and the
HTC One (M8)
has a surprisingly long battery life of 7 hours and 12 minutes.
But we're not bringing up these numbers just so we can point our finger at iPhone users and yell out "
Wallhugger
." Actually, we have a solution that can turn the battery charger of the phone into a spare battery. Expected to be released this coming November at a price of $39, the NomadPlus comes with a 1500mAh battery. Once that battery is charged up, you carry the NomadPlus with you. When your iPhone battery is dead, plug in the device to the Lightning port and your iPhone will have 70% battery life immediately.
To recharge the NomadPlus, you plug it into the wall and connect your iPhone to the other end of it. The smart charger will make sure that your phone gets recharged first, before the NomadPlus receives any juice.
Nomad is accepting pre-orders now. Click the sourcelink if you're interested. If you're an Apple iPhone user, the bottom line is that the NomadPlus will free you and your iPhone from the wall.
source:
NomadPlus
via
Gizmodo