New Samsung Galaxy S5 ad suggests iPhone users are "wall huggers"
97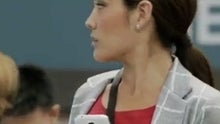 Samsung released quite a few
Galaxy S5 ads
until now, but the latest is the only one that directly tries to make fun of iPhone users. How's that? Well, Samsung has imagined a somewhat apocalyptic scenario where all iPhone users are constrained to live "around power outlets" and "near the recycling bins" in order to keep their batteries alive throughout the day. In contrast,
Samsung Galaxy S5
owners are perfectly fine - thanks to the smartphone's Ultra Power saving mode, as well as the fact that its battery is interchangeable. Even without these features, our own tests show that
the Galaxy S5 offers a great battery life
- the best among flagship smartphones.
At the end of the new ad (which is embedded below), Samsung advises iPhone users to stop being "wall huggers", because they can now get an S5.
Of course, it's a bit unfair to pit the Galaxy S5 against any iPhone, because Apple has yet to introduce this year's new models, which will most probably offer a significantly improved battery life.
Back in March, BlackBerry CEO John Chen also
called iPhone users wall huggers
. Is this becoming a trend, or what?
source:
Samsung
Recommended Stories