Chen calls Apple iPhone users "wall-huggers"
47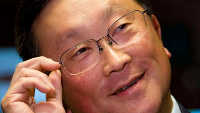 BlackBerry CEO John Chen seems like a fearless sort. It takes someone who has been battle scarred to
take on such contemporaries as T-Mobile CEO John Legere
. Chen did manage to turn around Sybase, dress it up, and sell it off to SAP for $5.8 billion, so we know that he is a tough cookie. How tough? Well, he just managed to "dis" the whole population of Apple iPhone users, calling them "wall-huggers".
Chen was speaking at the Oasis Montgomery Conference and was asked what he thought about Apple's (all together now) iconic smartphone. The executive said that since the device cannot last a full day without requiring a battery recharge, he calls users of the device "wall-huggers" which apparently means that iPhone users are constantly leaning against a wall, recharging their handset.
Attacking the phone that
has nearly a 42% share of the U.S. market, according to the latest comScore report
, when your devices own just 3.1% (and falling) is an interesting tactic. May we suggest though, that Mr. Chen await the release of that
rumored 64 bit octa-core super spec'd model
before putting down any of the competition, including Windows Phone flavored handsets which have just leapfrogged over BlackBerry according to that same previously mentioned comScore report.
John Chen is the real deal and has said all the right things up to now. But when he starts making comments like this, it almost reminds us of the days when
RIM was run by Mike Lazaridis and Jim Balsillie
.
source:
TUAW
via
RedmondPie