Top 3M vinyl skins for the Samsung Galaxy S7 & S7 edge - villains, wood, leather, and carbon fiber galore
8
So, you've got yourself a brand new Galaxy S7 or S7 edge? That's great, you've made a fine choice! Either of these is among the best phones available out there right now, though both have one downside — they are both fingerprint magnets that will proudly display your greasy smudges until you wipe them off. True, that might be a minor downside for certain people, but we fell that this is destroying the otherwise-captivating halo that the Galaxy S7 ans S7 edge have right out of the box.
Vinyl skins have a slight texture and allow you to re-apply them if necessary
So, what are the options before you, fingerprint smudge haters? The way we see it, you have three ways out of this mess. First one is to promptly clean your device as soon as you spot a speck or a smudge, which will certainly become boring after a week or so. The second option is to get a protective case, which will prevent you from marring the glass at the back of your new Samsung handset; it will also protect your phone from accidental damage. Cases add some bulk, though.
The last option is to get a vinyl skin for your device. True, it will hardly shield your phone if you drop it, but at least it makes your device smudge-proof, so to speak, without making it thicker. We've been salivating over various vinyl skins for the duo, and we decided to share them with you. Let's go!
dbrand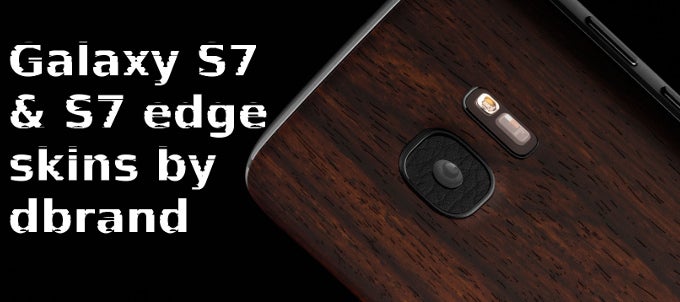 D-Brand employs high-quality 3M vinyl for its skins and allows you to create your own skin combos with their skin creator tool. For example, you can have a wood vinyl on the back, carbon one on the front, and a white leather one on the rear camera. Well, that would be pretty unsightly, but you get the idea. Check out dbrand's skins right below.
Slickwraps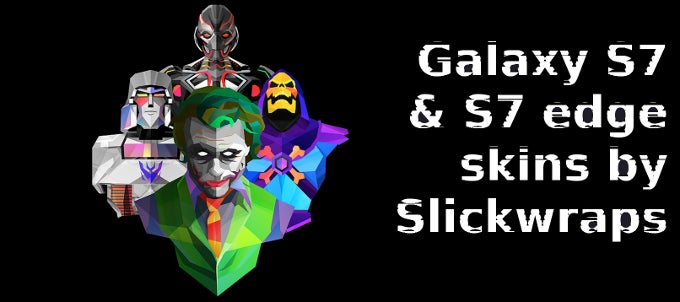 Slickwraps has lots of interesting skins in its portfolio. Some of the more intriguing ones include various ones themed after comic book villains and heroes, like Thor, Cap'n America, Iron Man, Batman, Skeletor, Heath Ledger's Joker, or an instantly recognizable Star Wars character, like a stylized Darth Vader, Yoda, or a storm trooper. Slick.