Apple CEO Tim Cook: "We're not in Apple Music for the money"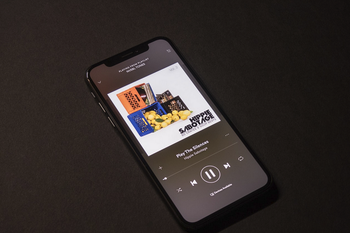 Apple Music recently overtook Spotify and
now leads its streaming music rival in the number of paid subscribers in the U.S.
Apple CEO Tim Cook worries that the streaming music industry has become too beholden to computers. He says, "We worry about the humanity being drained out of music, about it becoming a bits-and-bytes kind of world instead of the art and craft." This comment from the executive was clearly aimed at Spotify, which has started turning to human curation for its playlist, and has actually grabbed Apple's former R&B curator Carl Chery away from Cupertino.
Yes, Apple and Spotify do have a rivalry going on, and the main difference between the two is that the former is part of a big company that earns billions of dollars each quarter while Spotify has yet to turn a profit in any quarter. This is why Tim Cook can say with a straight face that Apple is not in Apple Music for the money. Yet, it is part of Apple's services business that is a major focus at the company. Apple hopes to reach $50 billion in services revenue by 2021 from the $30 billion it recorded last year.
Apple does have a major advantage in distribution as the Apple Music app is pre-installed on the millions of iPhone and iPad models that are produced and sold every year. And there is Apple's
HomePod
smart speaker to consider. Spotify is available on the top two smart speakers by sales. That would be Amazon's Echo lineup, and the Google Home speakers. There has been talk about
Spotify building its own smart speaker
, but so far one has not surfaced.
It is interesting that both Apple Music and Spotify charge the exact same prices for paid subscriptions. That would be $9.99 per month for individual accounts, $14.99 for families with up to five members, and $4.99 monthly for students. Meanwhile, the latest data shows Spotify with 160 million global subscribers, 70 million paying monthly for the premium service. Apple Music has about 45 million paid subscribers.

There are also some differences between the two; Spotify offers a free-ad based tier of service that doesn't include some of the features offered with the premium paid monthly subscriptions such as free downloads, unlimited skips, the ability to play any song and create custom playlists. Apple Music does offer a free three-month trial, which is something that Spotify does not have.