Thousands line up for a job at Foxconn as factory starts producing new Apple iPhone and Apple iPad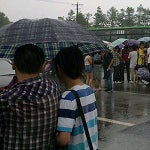 Thousands of Chinese lined up outside the Foxconn plant in
Chengdu
in hopes of
landing one of the assembly jobs
related to the production of the 6th generation Apple iPhone and the new mini-Apple iPad. Chinese electronics site
M.I.C. Gadget
said that the job has only one strict requirement which is that the applicant
must have good eyesight
. That would make sense considering that these jobs entail putting together extremely small parts. Before applying for these seasonal jobs, applicants must pay a registration fee of 150 Chinese Yuan (approximately $24).
Apple iPad centered on Foxconn's plant in Jundiai, Brazil, sources claim that the 7 inch tablet is rolling off the assembly line in Chengdu.
Meanwhile, the Foxconn factory in
Zhengzhou
is also alleged to be humming as the 6th-generation Apple iPhone rolls off the line, although in really small numbers. According to one report, over 100 workers during a recent night shift managed to
produce all of 5 Apple iPhones during the entire shift
. The insider shrugged it off saying the phone is in the trial production stage".
The report dovetails with information from last weekend that said that
the next iteration of the Apple iPhone had started production
.
source:
M.I.C.Gadgets
via
AppleInsider