This slick Nexus 5 (2015) concept video is based on up-to-date leaks and info
27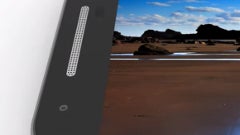 The
Google Nexus 5 (2015)
is eagerly-awaited by the mobile world, and with Android 6.0 Marshmallow likely to début alongside the device(s) very soon, mouths of techies far and wide will no doubt be watering in anticipation. It seems certain now that at least one new Nexus smartphone will be announced soon, and it's relatively safe to say that we'll be getting two. The smaller of the pair sees LG taking the manufacturing reigns, while Huawei is thought to be working on a very similar, phablet-sized Nexus. The former is the focus of a new concept by designer Jermaine Smit, which you can take a look at below.
This concept goes the whole hog, polished with a pianistic melody running through the background. But where dreamy designs and renderings are commonplace, at least this effort is backed by some reliable, leaked evidence. Utilizing the
recent info from OnLeaks
, the clip essentially retells the story over three dimensions, giving us perhaps our most intimate glimpse of the LG-made Nexus so far.
It would appear that the camera will protrude (boo!), but the device may sport a USB Type-C connector, a fingerprint sensor and dual speakers beaming from the front. As shown in the concept, it's also probable that the device will be available in black and white, and we keenly await further information.
Hopefully, it won't be too long before we can see this thing for real, on an official stage.