Galaxy S10 specs, prices and release dates tipped, 5G 'X' model may flaunt 5000 mAh battery
35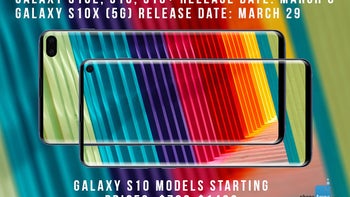 The top-shelf Galaxy S10 5G model may be called S10 X (for eXperience or eXpand) and is detailed as follows:
6.7" Super AMOLED display
4 rear cameras and 2 front cameras
10/12 GB RAM
512 GB/1 TB storage options
Exynos 5100 5G modem
5000 mAh battery
March 29 release
$1400-$1600 price tag
Samsung will release the
5G model of the Galaxy S10
in Korea with the "X" moniker on March 29, claims
local media
today, and at a starting price of about $1424 in local currency. The Galaxy S10 E, S10 and S10+, on the other hand, will be released on March 8 there, starting at about $700 for the cheapest model.
How is the double difference in price between the least expensive S10 E and the most expensive S10 X 5G justified? Well, the Korean publication reiterates that we will have six cameras in total on the 5G model - four at the back and two in the front - as well as 10GB RAM and up to 1TB storage.
So far so good, we've heard such jaw-dropping specs mentioned before but what caught our attention was the eventual 5000 mAh battery capacity listed in this latest rumor installment for the Galaxy S10 X. That's way more than the rumored 4000 mAh piece in the S10+ and would be the largest battery Samsung has placed in a flagship, but then again the model has to cope with connecting to a 5G network and will sport the largest, 6.7" display, in the upcoming Galaxy S10 model family.
The other new bits of info about the most souped-up and most expensive Galaxy S10 model is that it will sport Samsung's new
Exynos 5100
5G modem on the hardware side (what else). When it comes to software features, the S10 X might adopt something called "Life pattern" (working title) that learns and seamlessly adapts to your usage style, trying to automate everyday tasks you do with your phone.
As to why only in South Korea at? Well, that country is shaping up to employ 5G on a national scale first in March, hence the Galaxy S10 X exclusivity there. Fret not, though, this puppy will be
coming to the good ol' USA
before long, too.