Third wallpaper from the HTC One M9 crops up
8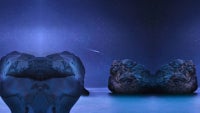 LlabTooFer, a custom ROM developer for HTC phones, has somehow gotten his hands on a stack of wallpapers that will ship with the One M9, and has promised to share one each day until the flagship is announced on March 1 at MWC 2015.
Earlier today we showed you the second one
, but we were actually playing catch-up – it's already time for the third in the series, and you can check it out in its full resolution glory below.
Different people, different tastes, they say, but we will nevertheless note that we enjoyed the first two walls better, though that doesn't mean we aren't curious as to what else HTC has picked for its next top shelfer – the company has consistently shown good taste with their selection in previous devices.
You can see the two other wallpapers we've gotten so far in the slideshow gallery underneath. If these end up picking your interested in the HTC One M9, you should probably check with
our comprehensive rumor round-up
on it – it outlines absolutely everything that we know about the company's upcoming flagship.
* To download any of the three wallpapers, zoom into them (using the +/- buttons on the bottom right) and right click > Save Image as.